Earlier today I posted a challenge on Facebook to define liturgical. The responses were all great and I realized I only had a basic understanding of the word myself. But since it was a challenge, I figured I'd dig a little deeper.
Movement ministers have taken on a lot of labels: praise dancers, worship dancers, lyrical dancers, movement ministers, and liturgical dancers to name a few. For the most part, these terms can be used interchangeably without hesitation. There are subtle variations in definition. If we were to take a poll, most people would be able to define praise, worship, lyrical and movement, however; the definition of liturgical continues to elude most.
Liturgical Defined
Of or relating to or in accord with liturgy. (dictionary.com)
Great….so what is liturgy? I'm glad you asked!
Liturgy Defined
A form of public worship; ritual.
Etymology (history of word)
The word comes from the Greek leitourgia meaning a "public work".
As they ministered to the Lord, and fasted, the Holy Ghost said, Separate me Barnabas and Saul for the work whereunto I have called them.
Acts 13:2


It hath pleased them verily; and their debtors they are. For if the Gentiles have been made partakers of their spiritual things, their duty is also to minister unto them in carnal things.
Romans 15:27


And every priest standeth daily ministering and offering oftentimes the same sacrifices, which can never take away sins:
Hebrews 10:11
In Christianity, the word liturgy transitioned and is commonly used to refer to a standard order of events. I don't know how or why the transition came about, I believe it is related to Catholicism. (If you have more information, please leave a comment!)

So what is liturgical dance?
By strictest definition, it would be dance performed as public work.
By common definition it would be dance that is part of an order of events.
Now what?
Do you agree with the definition of liturgical dance?
Do you use the terms interchangeably?
We'd love to hear from you! Leave your comment below!
Share on Facebook
It is my honor & privilege to present Carnival of Praise Dance #2: The "Equipping the Saints Edition! While a "carnival of praise dance" may be new to some of you, the concept of blog carnivals has been around for a while. Like a real carnival, a blog carnival puts a lot of interesting "stuff" in one place. Eventually, this carnival will travel to other sites as it gains momentum. Read this article for more information on blog carnivals and how to participate or host future carnivals of praise dance.
If you're a new visitor to Paneh Praise Dance & Mime Ministry, I'd like to welcome you! You can stay connected by subscribing to our RSS feed (What is RSS?), Twitter, and/or Facebook
Below you'll find the submissions to this month's carnival. Since I just finished hosting the Equipping the Saints Dance & Worship Arts conference, I thought it would be fun to call this the "Equipping the Saints" edition. Between the articles are a few of my favorite pictures* from the conference, when you're done here, check out the Equipping the Saints Conference Recap.

And God said unto Moses, I AM THAT I AM: and he said, Thus shalt thou say unto the children of Israel, I AM hath sent me unto you.
Exodus 3:14
Rekesha Pittman, author of Dance Ministry Talk writes "Copy, Right?" A candid discussion about intellectual property as it relates to creative arts ministry.

Jocelyn Richard, author of The Praise Dance Life submits Praise & Worship Dance, Mercy Seat. Sometimes we must minister in dance in the mist of a personal trial.

And he that sat was to look upon like jasper and a sardine stone: and [there was] a rainbow round about the throne, in sight like unto an emerald.
Revelation 4:3
Dawn Churchill submits Dancing With Prophetic Purpose. Practical advice to consider when selecting a song for ministry.
Valisha McFarlane, author of Everyday Purpose submits Giving God Glory. What is your worship EGO? Are you guilty of edging God out of some of your situations? Let this article shed some light on a few ways you can purpose everyday to exalt God only and give Him the glory He so rightfully deserves.
Exalt ye the LORD our God, and worship at his footstool; for he is holy.
Psalms 99:5


Pastor Lynn Hayden, author of Dancing For Him Blog submits His Eye is on the Sparrow The message of this article is how deeply God cares for us.
Since the carnival is posted here, there really isn't a need for me to include a submission. But I don't want to miss out on all the fun! I'm submitting an article that is the first of a 2-part series entitled Tips for Ministry Excellence – Part 1 - Excellence in Communication. The article defines the spirit of excellence and lists practical advice to improve communication in ministry.
We'd love to hear from you! Leave your comments below and on the sites of those that submitted an article. Would you like to participate in the next carnival of praise dance? Check for the latest schedule information here or on BlogCarnival.com
Past Praise Dance Blog Carnivals:
#1: September 2009 – Animal Kingdom Edition
*Photos courtesy of Charles Heard Photography if you would like to order any of the conference pictures, please contact him directly.
Editor's Choice
Share on Facebook
Greetings Kingdom Ambassadors!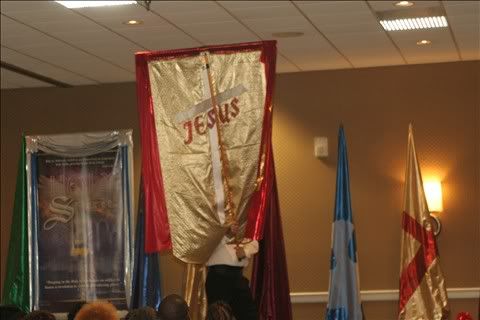 I am constantly amazed by how the Lord continues to manifest HIS splendid presence at the Equipping the Saints conference in St. Louis, MO. Worshippers came together from across the rivers and across the ocean with one purpose: To lift up the name of Jesus!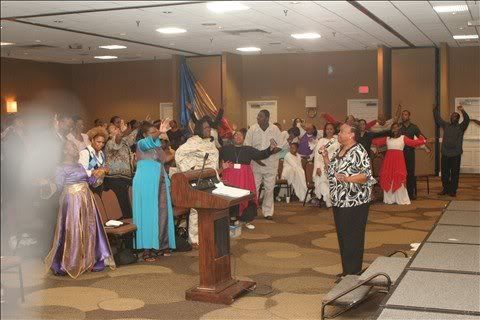 As we praised and worshipped on one accord, He manifested HIS presence in such a tangible way. There were testimonies of physical healings, deliverance and revival.
This year, we welcomed International guests from Bahamas, Barbados, Antigua, and Bermuda! It was a special pleasure to fellowship with you all. I count it an honor that you would travel to the United States to attend Equipping the Saints. It is my prayer the conference exceeded your expectations and you left spiritually full, armed and equipped. Ready to take new knowledge and inject it into your respective community.
Thursday Night
Enter into HIS gates with thanksgiving and into HIS courts with PRAISE!
Wings of Praise started us off Thursday with a wonderful procession. This was followed by congregational praise & worship led by Minister Rekesha Pittman. Kudos to all the congregational dancers that volunteered!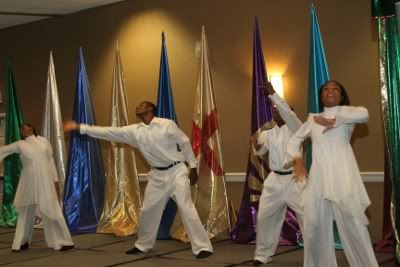 Silent Praise from Omaha, NE ministered Praise Him in Advance by Marvin Sapp. This ministries testimony truly blessed me! (Read it in full below!) Since the conference, they have started a praise dance, mime, African, and flag ministry. They are truly doing the work of the ministry. To Dr. Anderson and the rest of the Allen AME leadership….keep up the GOD work! I see the Lord all over those youth and the best is yet to come!
Genesis ministered Lord, You're Holy followed by a solo ministry piece from Mrs. Patricia Burnett, director of the
Anointed Feet Academy
(and also my instructor). Her prophetic ministry propelled us into worship and set the atmosphere for our speaker.

Patricia Burnett you touched my son's chest during your prophetic dance and he has been seeking the Lord every since. Thank you so much for allowing God to use you in such a might way!!


- Miriam A. , St. Louis, MO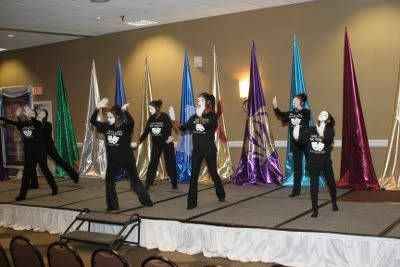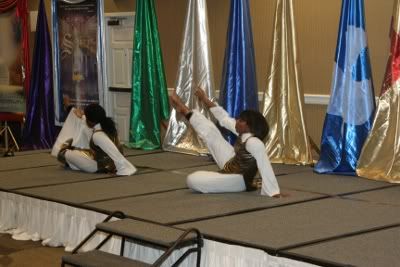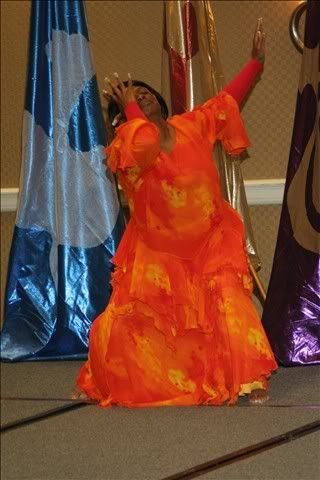 Ms. Lauren Brown ushered us into the Holy of Holies with an anointed worship medley. This P.K. (that is "preacher's kid) is the daughter of our evening speaker Pastor Tanya Brown. At 14 she is letter the Lord use her mightily through song, prophecy and the preached word!
Our speaker, Pastor Tanya Brown from Bethesda Temple of Alton, IL stepped into an atmosphere that was charged for worship. As she shared her testimony of the Lord's grace, mercy and miraculous power the Spirit of the Lord began to fall and His people. To God be ALL the Glory!
Friday – Breakout Sessions & Dance Intensives
This year we introduced several new sessions and a 4-hour dance & mime intensive. Some of the new classes include Preparing to Meet the Bridegroom, Understanding the Times: Issachar & Israel, Raquad! Step it Up, Processions & Pageantry, Streamers in the Desert and About My Father's Business.
The facilitators were all phenomenal! They eagerly shared scripturally sound advice, revelations and knowledge. Thank you all for sharing your gifts.
The dance intensive we just that….INTENSE! Those that braved the 4-hour workshop learned foundational techniques that they could apply in movement. I peeked in both classes and they covered conditioning, positioning, posture, walking, body alignment, choreography and so much more. Everyone definitely looked as if they received a full body workout!
For His Glory Dance Ministry started our evening service with Anthem of Praise. These girls ministered with flags under the anointing.
The few students from the Mime Intensive session along with facilitator Minister Robert Hayes reminded us that We Need the Glory. Their cry for the GLORY to fall resonated with the attendees as we shifted into worship.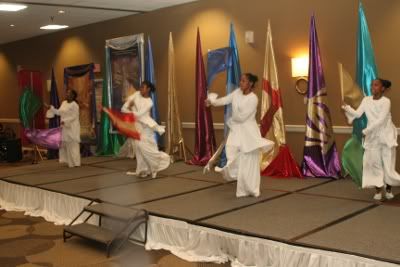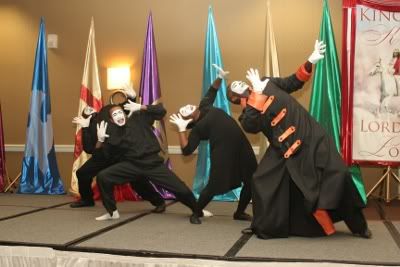 Pat & Gary Anderson of Wings of Praise blessed us with Let the Veil Down Let the Praise Go Up by Judy Jacobs. They used the billows in such a way it felt like the Lord was breathing on us!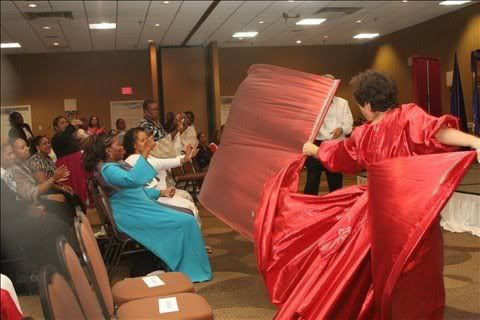 Minister Rekesha Pittman encouraged us to FLY! The Lord used her to minister to people prophetically and set the platform for our evening speaker Prophet Barbara McClain to bring the Word!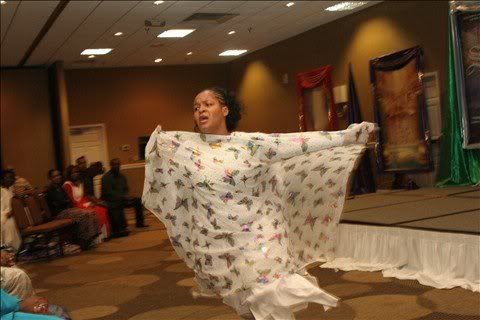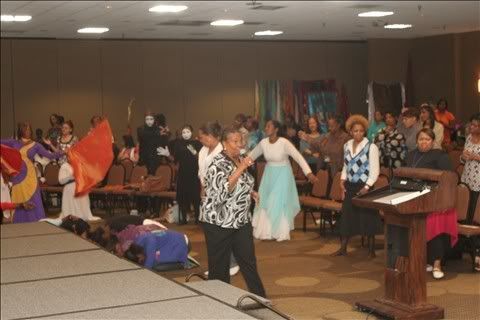 Saturday- Breakout Sessions, Five Fold Ministry Panel & Prophetic Wedding Feast
I was overwhelmed with the number of people that showed up for Between the Porch & Altar intercessory prayer! Under the leadership of Dr. Ann Higgins we strategically prayed for our nation, Jerusalem, our visiting nations, and dancers everywhere to name a few.
We continued with our daily breakout sessions including new sessions: God's Order for Garments TM, Streamers in the Desert and Challenges in Ministry (taught by my pastor!).
After the last breakout session, we held a 5 Fold Ministry Panel Discussion. This was an opportunity for the attendees to ask their questions directly from those operating is various areas of ministry. There were some great questions…I'll post the Q&A that I can remember on the website, so be sure to bookmark this site and check back!
Dr. Ann Higgins blessed us with a ministry selection in the evening before our speaker. The selection was so appropriate for Equipping the Saints – fill us up & send us out!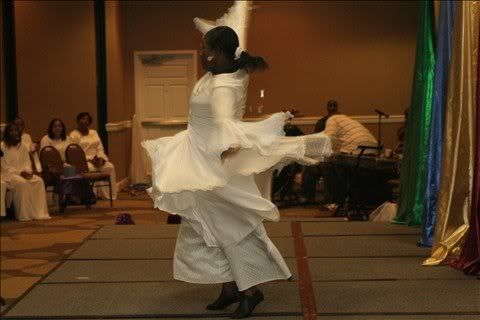 Elder Cecilia Beasley was our evening preacher. The Lord allowed her to release a prophetic song…only 7 words, but it is still in my spirit: Thy Kingdom Come…Thy Will be Done. It still brings tears to my eyes every time I think of it!
Immediately following her sermon was the Prophetic Wedding Feast. Wings of Praise created a beautiful depiction of the Marriage of the Lamb. There were streets paved with gold, beautiful banners, and communion. It was such a personal worship experience as we were individually escorted through a canopy to ascend the the wedding feast. It was an awesome reminder of the glory that awaits those of us whose names are written in the Lamb's book of life!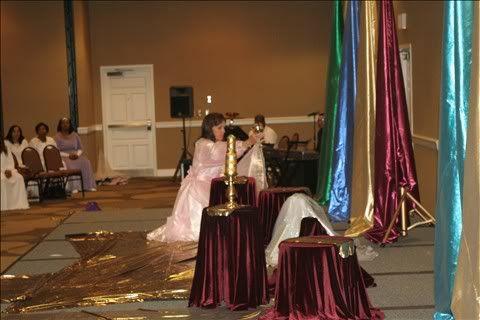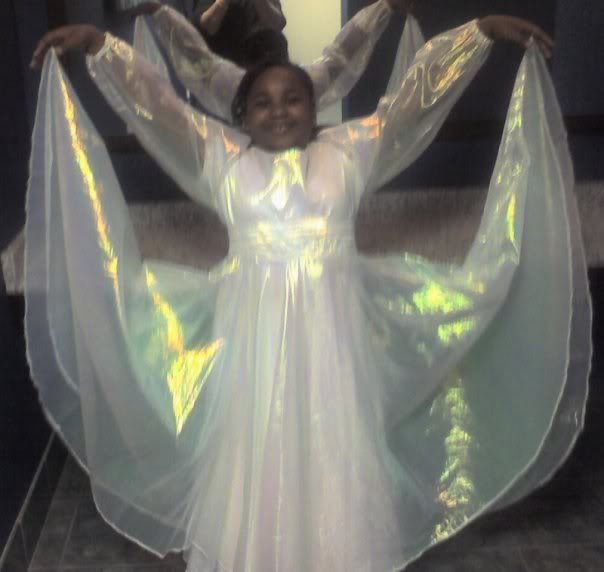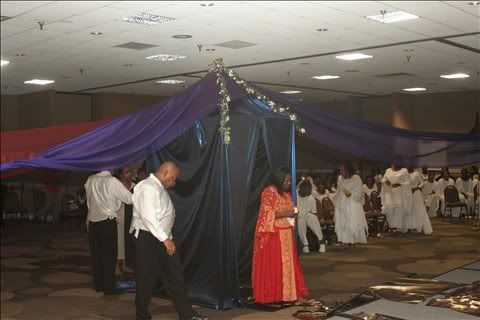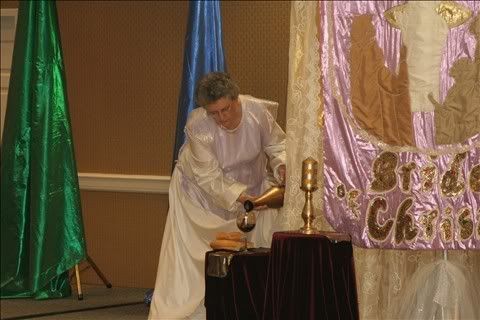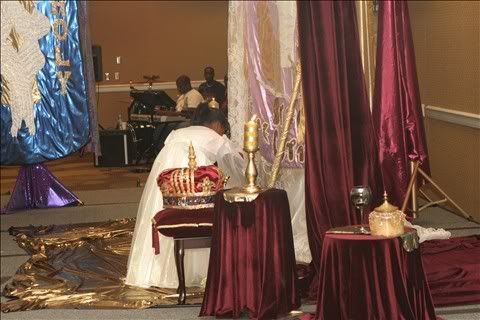 Sunday – Morning Worship & Fellowship!
On Sunday we caravaned across the river to my church home, O'Fallon Apostolic Assembly, for our 8:00 am service. Dr. Ann Higgins preached a RHEMA WORD! She encouraged us to step into position so we could continue to see Jesus.
After service, we traveled to one of my favorite restaurants (Bristol's Seafood Grill) for an all-you-can-eat Sunday brunch. We ate, laughed, and recapped all the events that took place…officially marking the end of EQS2009.
Special Thank You!
My sincere gratitude is extended to all of those who supported the Equipping the Saints Conference (facilitators, staff, musicians, A/V, attendees)! My pastor, Bishop Gregory Wells Sr. & Lady Joyce Wells have been a tremendous support. I thank God for their godly counsel and wisdom.
Equipping the Saints 2010!
Many of you have contacted me about pre-registering for Equipping the Saints 2010. Once all the information is finalized early registration will open. I hope to have the dates and location confirmed and available by the next newsletter release.
Heads up! There will be an "Early Registration" challenge. All I'll say now is community effort will be necessary for it to work.
I has been my honor to serve as your conference host for a 3rd year and I am looking forward to the 4th should be Lord delay His return.
Conference Photos!

Share on Facebook
Title: Diversified Praise Conf.
Location: Hampton, VA
Start Date: 2009-08-14
End Date: 2009-08-15
Share on Facebook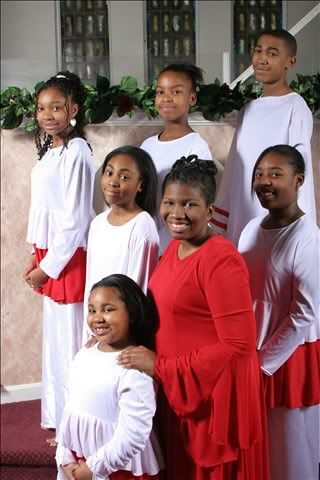 I am still in awe of the GREAT things that took place at the Dance for JOY workshop! JOYED UP! Youth praise dance ministry really took ownership of their event from beginning to end. They picked the movement disciplines, the menu (pizza of course), and ministered through teaching and dance.
The day started with their class "Dance for JOY" in which they spoke about why they choose to minister in dance, Bible verses supporting dance, and perhaps their favorite topic – Ministry vs. Entertainment, where they compared and contrasted ministry with entertainers their peers are familiar with (America's Best Dance Crew, Hannah Montana, and Cheetah Girls to name a few).
At an age where peer approval is priority, I commend them for standing in front of a group of their peers and teaching a foundational truth of ministry. The revelations God downloaded into these teens, pre-teens (and pre-pre-teens!) was direct from His mouth to theirs. Nuggets such as:
"When we minister we are not concern with making people happy – we want to make God happy"

"Ministry is letting God take control and move through you and with entertainment you stay in control"

"With entertainment you get the glory and with ministry God gets the glory"
**************
The breakout sessions were full of energy as the youth learned a variety of movement disciplines such as Step, Mime, African, and Praise. There were classes for the Parents / Leaders as well such as: Pulling the Gifts out of your youth, Starting & Maintaining a Dance Ministry and the "Un-Blushable" Generation.
The energy poured into the afternoon service as we all came together to lift up the name of Jesus. JOYED UP ministered an Israel Medley with the help of some of the workshop dancers!
Sidebar: Let's not underestimate our youth! These kids learned choreography for a 12 minute song in less than an hour!!!
We witnessed the Spirit of the Lord fall upon one of our youngest members as she Danced before the Lord and led us to a higher place of worship! And a child shall lead them!
Each ministry (all youth) came to give God glory! Our speaker, Tearra Vaughn blessed us with praise dance too ~ GLORY! She spoke directly to the youth to meet them where they are. She was engaging an kept their attention…not always an easy task!
At the end of the day the altar was filled with youth that desired to walk closer with Jesus – to God be ALL the GLORY!
On behalf of JOYED UP! I would like to thank every participant & attendee for your loving support.
To JOYED UP (and their parents!) ~ I am honored to serve as your dance ministry president. I love you all very much!
View JOYED UP! Ministering at the Workshop
Dancing for JOY!
Lakita
Share on Facebook
Title: "Why We Dance"
Location:
Shiloh Full Gospel Baptist Church
945 S. Dearborn Ave
Kankakee, IL 60901
Description: Praise Dance workshop sponsored by the Illinois & Missouri chapters of the International Dance Commission.
Date: June 20, 2009
Classes Include:
Prophetic & Mime Dance
Dance Technique
Flags/Colors & Garments
Choreography
Godly vs. Wordly Music

Registration is now open!
Visit http://whywedance.eventbrite.com or register below:
Share on Facebook
Title: Transformed by Praise: Worship Arts Clinic

Location:
Allen Chapel AME Church
2842 Monroe Ave
Omaha, NE

Date & Time: Saturday May 16th (8:30am – 4:30pm)

Classes Include:

Lord Prepare Me – Starting a Dance Ministry
Acting Out! Mime
Dance Before the Lord!
Flags

For more information, contact the host Jessiline Anderson:
drj7@cox.net or 402-679-2744


Share on Facebook
Title: Equipping the Saints
Location: St. Louis, MO
Link out: Click here
Description: Equipping the Saints Dance and Worship Arts Conference: THY KINGDOM COME
Start Date: 2009-09-10
End Date: 2009-09-13
Join us for the 3rd Annual Equipping the Saints Dance & Worship Arts Conference. Our theme this year is Thy Kingdom Come. We are calling for the kingdom-minded ministers to join us for praise, worship, exhortation and equipping!
Share on Facebook