In April 2009 this website was transformed into the blog you are reading today. It is still a work in progress, but the new format has allowed me to share more content with you all. In the past 9 months we have posted 112 articles and logged over 200 of your comments!
In case you missed some of the content, here is Paneh's website year in review! There is a lot here, so I suggest you bookmark it and refer back to it from time to time.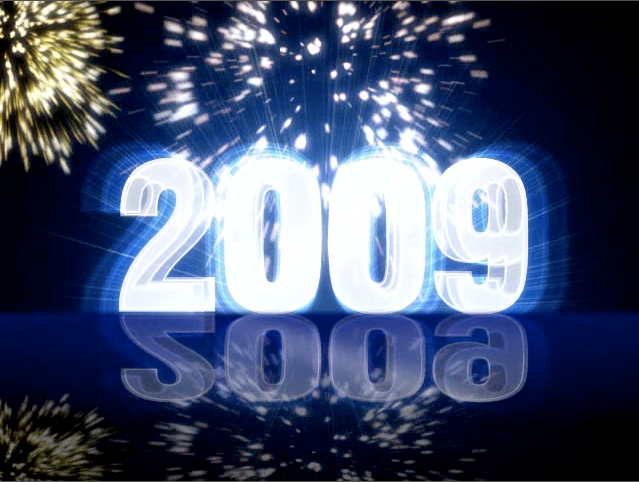 Top Posts of All Time
1. The Starting a Dance Ministry Series continues to be the most popular page on this site. There are 3 parts: Part 1: The Spiritual, Part 2: The Practical, and Part 3: The Administrative. I am also working on my first E-book, Starting a Dance Ministry: Prepare Now or Repair Later. This guide will go into even more detail and include a high level flow chart to assist in the decisions that must be made from the very beginning. If you would like to receive more information about the E-book when it becomes available…you can sign up here:
2. What to "Wear": Praise Garment Resource List quickly rose to the top of the list. I compiled this list later in the year and the number of views skyrocketed!
3. 3 Tips & Resources for New Dance & Mime Ministries was also very popular among those seeking information
4. I was surprised at the interest in A Spiritual Leader's View of Dance Ministry. But this observatory report that started as an academic project by my pastor's wife, Lady Joyce A. Wells has helped leaders and dancers see things from the other's point of view.
Most Community Involvement
As much as I enjoy writing articles, I enjoy interacting with you all even more. These posts had the most community involvement
1. The Dance Ministry Ethics Series was something we did at the end of October. Each day a topic was launched for discussion, some were considered breach of protocol, while others were unanimously unethical. Read over each discussion and the comments. By the way, even though the "week" is over, comments are still open and you are welcome to leave yours!
Day 1: Invited Guests Leaving After Ministering
Day 2: Contracts Required for Ministry
Day 3: Self Promotion or Creative Marketing
Day 4: Praise Dance Competitions
Day 5: Inspiration or Imitation?

2. The 31 Dance Minister's Choreography Tip Challenge is something I did for fun on Twitter & Facebook. I asked my friends to submit choreography tip in 120 CHARACTERS OR LESS. These were posted on Facebook & Twitter (1 per day) for the entire month of November. At the end of the month, they were all compiled into one post. This could not have been done without you all!
3. The 2009 Equipping the Saints Conference Recap was one of my personal favorites to write as it gave me an opportunity to reflect on such an awesome event! It's not awesome because of anything I did…but because the Lord himself manifested HIS presence. Writing the recap is a way for me to reflect on the event, thank you for sharing your miraculous testimonies. To God be ALL the Glory!
My Personal Favorites
These are the ones I enjoyed writing the most. I hope you enjoy reading them as well!
The Dance Minister's Choreography Devotion Series. This was done in two parts. Each part ran Monday – Friday with a new dance choreography technique was explained how to execute properly as well as how we, as ministers, can reflect on the awesome God we serve while moving for His glory! Part 1 cover the five ballet positions, while part two will beginner / intermediate ballet techniques:
g. Releve'
h. Piroutte
i. Jete
j. Chasse'
2. As I mentioned earlier, I love event hosting and planning so writing How to Plan Events and The Truth About Hotel Room Blocks was a pleasure. If you're planning an event at a hotel in 2010 and you're unfamiliar with hotel contracts, rules and the lingo, you should read those articles.
3. My other passion is personal finance. I am working on a project on that very topic that I hope to release at the end of 2010. In the interim, check out D.A.N.C.E. Out of Debt and read about the DUMBEST (Financial) Move I've Ever Made.
Worth a Second Look
These articles were either written early on or during a down time. For some reason or another they didn't get many views. So in case you missed them, here they are again:
1. Miriam: Praise Dancer, Prophetess, Leader and More
3. The Spiritual Side to Technique series: Balance & Alignment
4. Tips for Ministry Excellence Series: Appearance & Communication
5. Tips for Traveling Dance Ministers
6. What Exactly is Liturgical Dance?
This is less than ONE THIRD of the content currently on the site and the goal is to constantly add more! If you never want to miss an article, I suggest you sign up for e-mail or RSS subscription. This is different from the monthly newsletter. You'll receive an email as soon as a new article is published.
Props to the Top Referrers of 2009
Aside from search engines, Facebook, and Twitter traffic. Many readers arrive here from someone else's website. This is to show some love to Paneh's top referrer's. Check out their sites as well:
2. Done Unto the Lord Ministries

I am looking forward to all that lies in store for you and me in 2010. I intend to write more articles and continue to encourage interaction. I'm also plan to continue to blog carnivals and weekly round-ups through out 2010. I also hope to publish more guest posts…so if you have an article or would like to write on a relevant topic…please contact me!

Blessings, Love and a Happy New Year!
Share on Facebook
October 26 – 30, 2009 is Dance Ministry Ethics Week here on Paneh's site. Each day a new topic will be featured for discussion. The scenarios presented are based on real events however no actual names will be used.
The topic for day 2 is ministry contracts.
The Bible says:

for the laborer is worthy of his wages. – Luke 10:7

Let the elders who rule well be counted worthy of double honor, especially those who labor in the word and doctrine. For the Scripture says, "You shall not muzzle an ox while it treads out the grain," and, "The laborer is worthy of his wages. – 1 Tim 5:17-18
The bible supports that ministers (or laborers) should receive compensation. The question is should there be a price tag or contractual requirement before agreeing to minister (dance, teach, sing etc)?
I've had the opportunity to serve on a variety of Christian event committees and some of the requests are surprising: 1st class air accommodations, 5-star hotel, limo service, 50% deposit, and the list goes on. Again, it is my belief that accommodations should be covered, but when we expect luxury have we gone too far?
One the other hand, some full time ministers feel obliged to have a contract because they have often experienced giving through ministry with little to no compensation. They feel it is necessary to set minimum guidelines to event planners because often times they are unaware of the financial responsibilities. It is easier to send a contract than have an uncomfortable conversation about financial expectations.
So where do we draw the line?
It's your turn!

Is it OK for ministers to issue contracts? Why or why not?
Leave your comments below
Share on Facebook
Greetings Kingdom Ambassadors!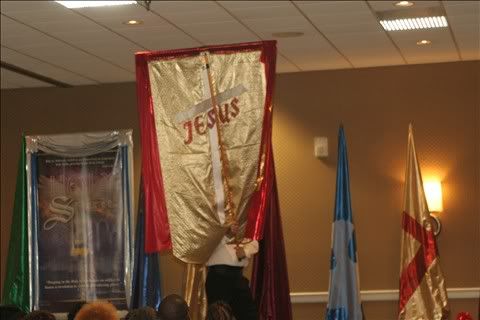 I am constantly amazed by how the Lord continues to manifest HIS splendid presence at the Equipping the Saints conference in St. Louis, MO. Worshippers came together from across the rivers and across the ocean with one purpose: To lift up the name of Jesus!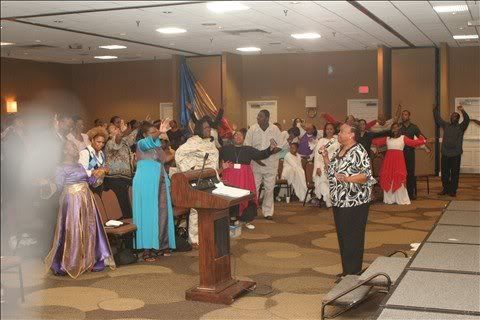 As we praised and worshipped on one accord, He manifested HIS presence in such a tangible way. There were testimonies of physical healings, deliverance and revival.
This year, we welcomed International guests from Bahamas, Barbados, Antigua, and Bermuda! It was a special pleasure to fellowship with you all. I count it an honor that you would travel to the United States to attend Equipping the Saints. It is my prayer the conference exceeded your expectations and you left spiritually full, armed and equipped. Ready to take new knowledge and inject it into your respective community.
Thursday Night
Enter into HIS gates with thanksgiving and into HIS courts with PRAISE!
Wings of Praise started us off Thursday with a wonderful procession. This was followed by congregational praise & worship led by Minister Rekesha Pittman. Kudos to all the congregational dancers that volunteered!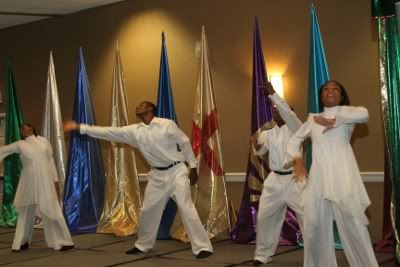 Silent Praise from Omaha, NE ministered Praise Him in Advance by Marvin Sapp. This ministries testimony truly blessed me! (Read it in full below!) Since the conference, they have started a praise dance, mime, African, and flag ministry. They are truly doing the work of the ministry. To Dr. Anderson and the rest of the Allen AME leadership….keep up the GOD work! I see the Lord all over those youth and the best is yet to come!
Genesis ministered Lord, You're Holy followed by a solo ministry piece from Mrs. Patricia Burnett, director of the
Anointed Feet Academy
(and also my instructor). Her prophetic ministry propelled us into worship and set the atmosphere for our speaker.

Patricia Burnett you touched my son's chest during your prophetic dance and he has been seeking the Lord every since. Thank you so much for allowing God to use you in such a might way!!


- Miriam A. , St. Louis, MO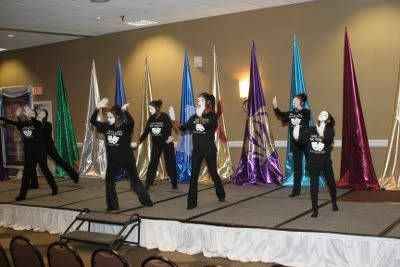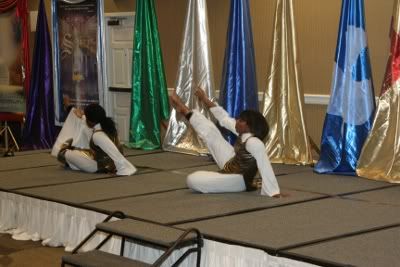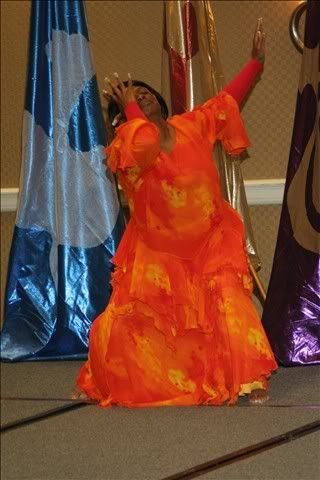 Ms. Lauren Brown ushered us into the Holy of Holies with an anointed worship medley. This P.K. (that is "preacher's kid) is the daughter of our evening speaker Pastor Tanya Brown. At 14 she is letter the Lord use her mightily through song, prophecy and the preached word!
Our speaker, Pastor Tanya Brown from Bethesda Temple of Alton, IL stepped into an atmosphere that was charged for worship. As she shared her testimony of the Lord's grace, mercy and miraculous power the Spirit of the Lord began to fall and His people. To God be ALL the Glory!
Friday – Breakout Sessions & Dance Intensives
This year we introduced several new sessions and a 4-hour dance & mime intensive. Some of the new classes include Preparing to Meet the Bridegroom, Understanding the Times: Issachar & Israel, Raquad! Step it Up, Processions & Pageantry, Streamers in the Desert and About My Father's Business.
The facilitators were all phenomenal! They eagerly shared scripturally sound advice, revelations and knowledge. Thank you all for sharing your gifts.
The dance intensive we just that….INTENSE! Those that braved the 4-hour workshop learned foundational techniques that they could apply in movement. I peeked in both classes and they covered conditioning, positioning, posture, walking, body alignment, choreography and so much more. Everyone definitely looked as if they received a full body workout!
For His Glory Dance Ministry started our evening service with Anthem of Praise. These girls ministered with flags under the anointing.
The few students from the Mime Intensive session along with facilitator Minister Robert Hayes reminded us that We Need the Glory. Their cry for the GLORY to fall resonated with the attendees as we shifted into worship.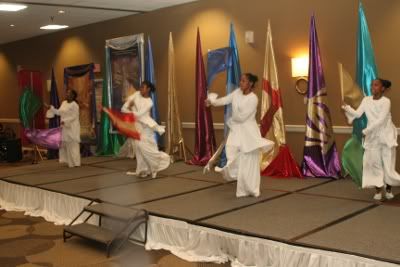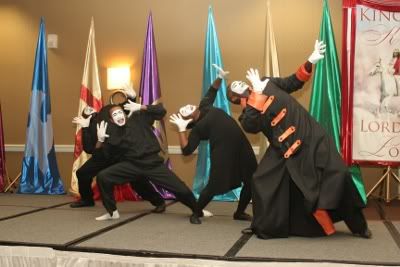 Pat & Gary Anderson of Wings of Praise blessed us with Let the Veil Down Let the Praise Go Up by Judy Jacobs. They used the billows in such a way it felt like the Lord was breathing on us!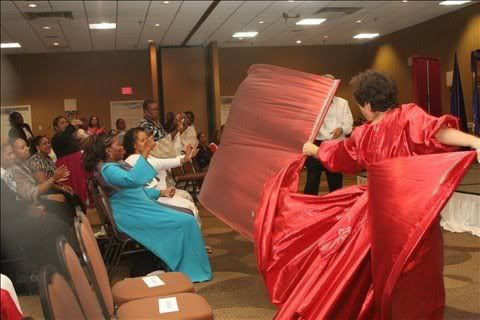 Minister Rekesha Pittman encouraged us to FLY! The Lord used her to minister to people prophetically and set the platform for our evening speaker Prophet Barbara McClain to bring the Word!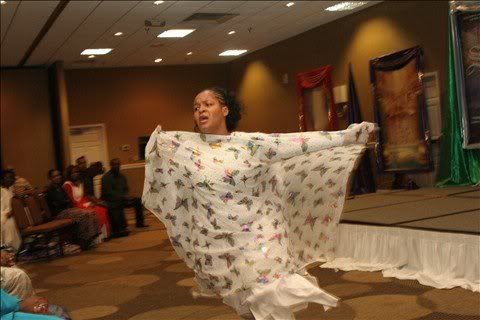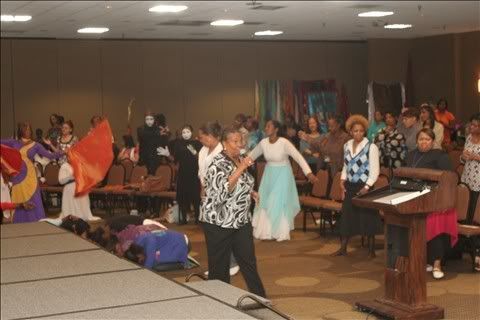 Saturday- Breakout Sessions, Five Fold Ministry Panel & Prophetic Wedding Feast
I was overwhelmed with the number of people that showed up for Between the Porch & Altar intercessory prayer! Under the leadership of Dr. Ann Higgins we strategically prayed for our nation, Jerusalem, our visiting nations, and dancers everywhere to name a few.
We continued with our daily breakout sessions including new sessions: God's Order for Garments TM, Streamers in the Desert and Challenges in Ministry (taught by my pastor!).
After the last breakout session, we held a 5 Fold Ministry Panel Discussion. This was an opportunity for the attendees to ask their questions directly from those operating is various areas of ministry. There were some great questions…I'll post the Q&A that I can remember on the website, so be sure to bookmark this site and check back!
Dr. Ann Higgins blessed us with a ministry selection in the evening before our speaker. The selection was so appropriate for Equipping the Saints – fill us up & send us out!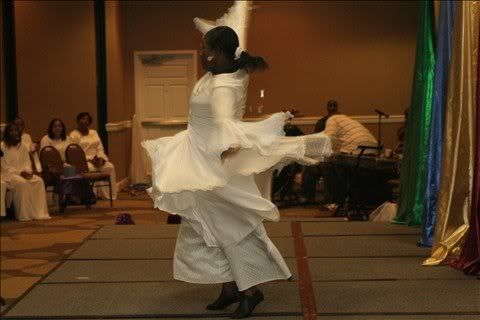 Elder Cecilia Beasley was our evening preacher. The Lord allowed her to release a prophetic song…only 7 words, but it is still in my spirit: Thy Kingdom Come…Thy Will be Done. It still brings tears to my eyes every time I think of it!
Immediately following her sermon was the Prophetic Wedding Feast. Wings of Praise created a beautiful depiction of the Marriage of the Lamb. There were streets paved with gold, beautiful banners, and communion. It was such a personal worship experience as we were individually escorted through a canopy to ascend the the wedding feast. It was an awesome reminder of the glory that awaits those of us whose names are written in the Lamb's book of life!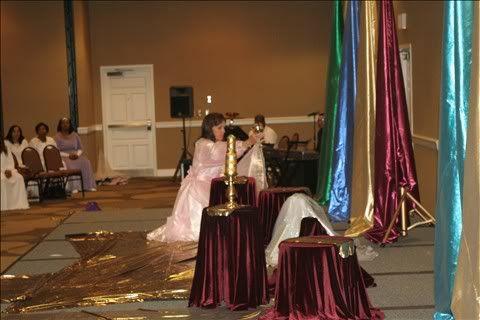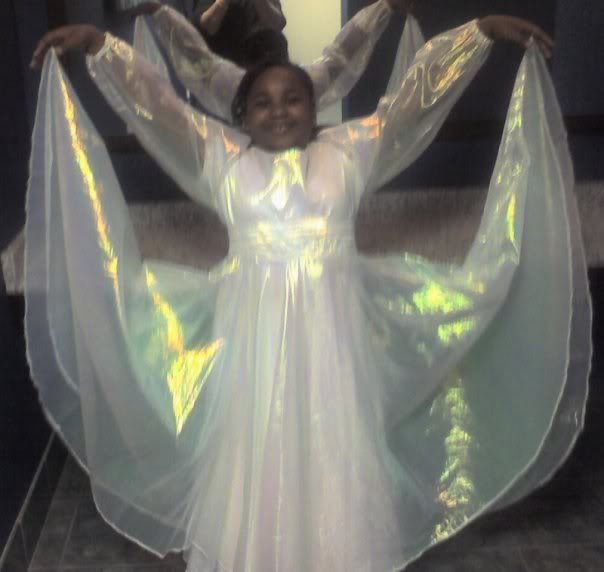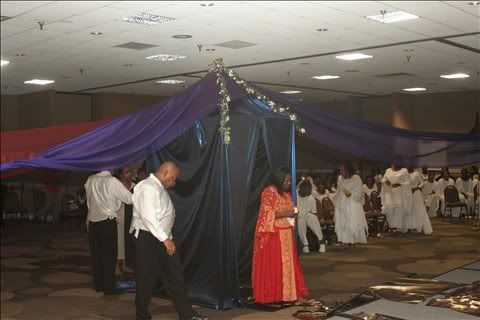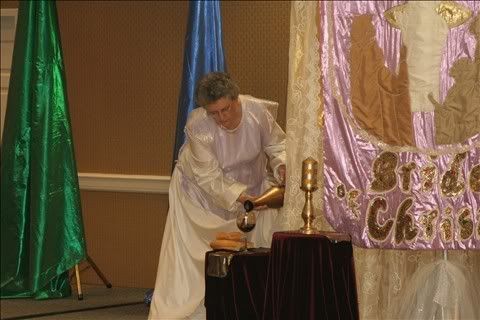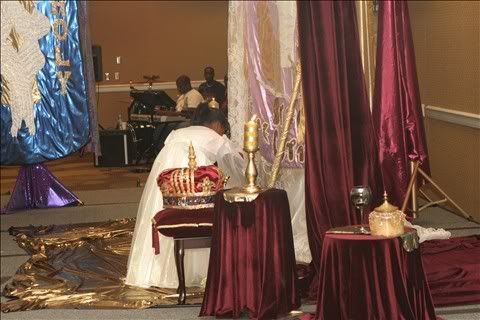 Sunday – Morning Worship & Fellowship!
On Sunday we caravaned across the river to my church home, O'Fallon Apostolic Assembly, for our 8:00 am service. Dr. Ann Higgins preached a RHEMA WORD! She encouraged us to step into position so we could continue to see Jesus.
After service, we traveled to one of my favorite restaurants (Bristol's Seafood Grill) for an all-you-can-eat Sunday brunch. We ate, laughed, and recapped all the events that took place…officially marking the end of EQS2009.
Special Thank You!
My sincere gratitude is extended to all of those who supported the Equipping the Saints Conference (facilitators, staff, musicians, A/V, attendees)! My pastor, Bishop Gregory Wells Sr. & Lady Joyce Wells have been a tremendous support. I thank God for their godly counsel and wisdom.
Equipping the Saints 2010!
Many of you have contacted me about pre-registering for Equipping the Saints 2010. Once all the information is finalized early registration will open. I hope to have the dates and location confirmed and available by the next newsletter release.
Heads up! There will be an "Early Registration" challenge. All I'll say now is community effort will be necessary for it to work.
I has been my honor to serve as your conference host for a 3rd year and I am looking forward to the 4th should be Lord delay His return.
Conference Photos!

Share on Facebook
It is my honor & privilege to present Carnival of Praise Dance #1: Animal Kingdom Edition! While a "carnival of praise dance" may be new to some of you, the concept of blog carnivals has been around for a while. Like a real carnival, a blog carnival puts a lot of interesting "stuff" in one place. Eventually, this carnival will travel to other sites as it gains momentum. Read this article for more information on blog carnivals and how to participate or host future carnivals of praise dance.
If you're a new visitor to Paneh Praise Dance & Mime Ministry, I'd like to welcome you! You can stay connected by subscribing to our RSS feed (What is RSS?), Twitter, and/or Facebook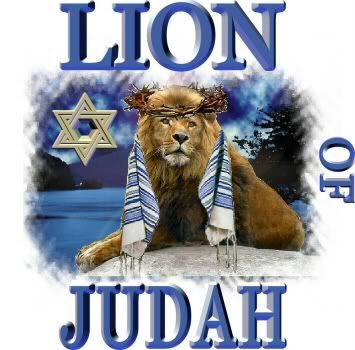 But one of the elders said to me, "Do not weep. Behold, the Lion of the tribe of Judah, the Root of David, has prevailed to open the scroll and to loose its seven seals.
Rev 5:5
Editor's Choice
Rekesha Pittman, author of Dance Ministry Talk writes Uneventful. This is an article about an unsettling trend happening in the worship arts arena.
Jocelyn Richard, author of The Praise Dance Life submits Worship Dance Garments that Preach. This article is an interview with worship dance garments designer Pamela Stovall. The article highlights the biblical mandate for priestly garments for worship dance.

Dawn Churchill submits Choreography and Ministry Suggestions for Solo Dance Ministers. How do I know if I am called to minister in dance as a soloist? How do I prepare for such ministry? Do you have any suggestions for making my solo pieces more effective? Get the answers to these questions (any many more) by reading this article! (Note ~ content in this article can be applied to movement ministry teams/groups.)
As the deer pants for the water brooks, So my soul pants for You, O God.
Saronda Jackson writes Let Judah Go Up First – Experiencing Worship!
This is a word of encouragement for those of you in the midst of the battle to send up Judah (your praise)!
Nichelle, author of Dance Advantage submits Dancers Connecting to Their Faith and Enriching Their World. This is a guest post on her site written by Randall Flinn, director of Ad Deum Dance Company. It explores the relationship between faith and dance – it's existence throughout history, as an expression of praise in worship and fellowship, and as a means for Christian artists to engage culture with relevant expressions of their faith and world view.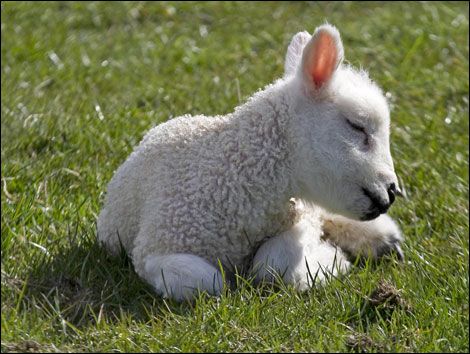 And looking at Jesus as He walked, he said, "Behold the Lamb of God!"
Valisha McFarlane, author of Everyday Purpose submits Clothed From the Wardrobe of True Worship. As dance ministers, we know our garments that we choose to minister in are very important. However, we must not forget to clothe ourselves in the spiritual garments that please the King. He desires for us to worship Him by daily by walking in humility, love, compassion and forgiveness.
Sukky Fagbohun, author of Praise Free and most recently PraiseDancer711 submits Can Dance Exist without music? The message of this article could be summed up in one word "Worship" In order to portray worship as as an integral and continuous part of the human, the article examines the question of dance, and the possibility of its existence without music.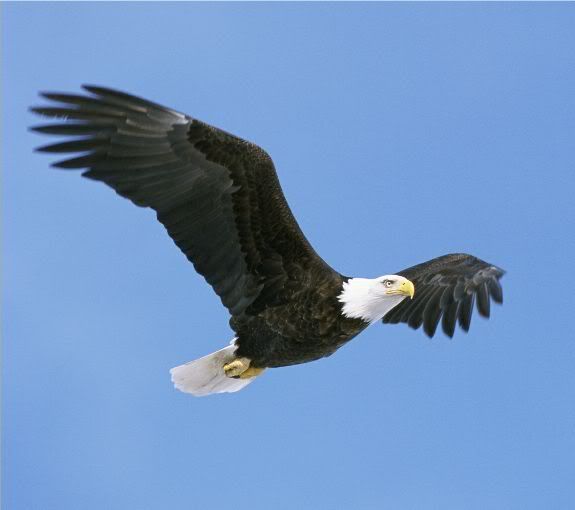 But they that wait upon the LORD shall renew their strength; they shall mount up with wings as eagles; they shall run, and not be weary; and they shall walk, and not faint.




His Hem Ministry reminds us that there are a beautiful array of colorful garments to choose from in Color Us Resplendent.
Since the carnival is posted here, there really isn't a need for me to include a submission. But I don't want to miss out on all the fun! I'm submitting an article that is part of a 3-part series on one of my favorite topics Starting a Dance Ministry. The article deals with the spiritual, practical and administrative aspects of launching a new ministry on a proper foundation.
We'd love to hear from you! Leave your comments below and on the sites of those that submitted an article. Would you like to participate in the next carnival of praise dance? Check for the latest schedule information here or on BlogCarnival.com
Share on Facebook
As an eventholder, I've come to realize there is a delicate balance in securing a number of guest rooms for an event. You have to do a best "guestimate" of how many people will attend. Of those attendees, how many are local commuters? You want to block enough rooms for your attendees, but you also don't want to be stuck with the bill. Here is…
The Truth about Room Blocks
When attending an event outside of your local area, it is tempting to try to save a few dollars by booking our hotel room "outside the block", in other words at another hotel, through an Internet site, or with an employee or family discount. While this may seem like a good idea, often there are indirect financial consequences.

Hotel meeting room space is very expensive. It costs thousands of dollars to use the space for a few evenings. Hotels are willing to discount the cost of meeting room space if you can ensure them revenue through other means (sleeping rooms or food & beverage).
Typically, the hotel will discount the cost of the meeting room space in exchange for a guarantee on the amount of sleeping rooms that will be allotted for your event. This is the room block.
Depending on the details of the hotel contract, the event organizer is responsible for filling a certain percentage of the rooms. Anything below that percentage, the event organizer is responsible for.

For example…if an organizer contracts for 100 room nights and has a contractual obligation to meet 90%, then 90 room nights must be filled under the block. For each night below the allowed slippage (in this example 90), the organizer has to pay for that room night. So…to continue the example, if only 70 rooms are booked under the block…that is 20 room nights short of the allowed slippage of 90%. If a night in the hotel is $99 (let's say $100) then the organizer is responsible for the difference: 20*$100 or $2,000. This is called attrition. This is in addition to the thousands paid for meeting room space.

Larger corporate events are usually able to write this into their budget or increase registration on future events in an attempt to recover losses. Heavy attrition fees can cripple any size budget.
This is why it is always appreciated to book your room under the block whenever possible!
Share on Facebook
Title: RCMA Convention
Location: Fort Worth, Tx
Description: http://www.rcmaweb.org/Conferences/2010FortWorth/GeneralInformation/tabid/195/Default.aspx
Start Date: 2010-01-26
End Date: 2010-01-29
Share on Facebook
I host Christian worship arts events, however, many of these tips can be applied to other events. Many of the items deserve their own post so I can go into more detail. Subscribe to my RSS feed if you would like to be notified when information is posted
1. Determine the "shape" of your event by asking yourself these questions:
Who is the event for? Gender? Age Group? Region? etc…
How many people am I expecting to attend? Be realistic!
What is the budget?
Who are your invited guest speakers?
Set a date? Are your dates flexible? Are there other major events that would attract the same niche on that day?
Count the cost! Determine registration amount. Tiered registration?
2. Find a location based on the "shape" of your event: Churches, Hotels, Convention Centers, Community Halls
If you decide to use a hotel or a convention center, it is a good idea to have
a lawyer
or someone with experience look over the contract. There are all sorts of fees that can destroy a budget without proper planning and understanding. Churches also have protocol that must be followed — be sure to ask plenty of questions!
3.

Secure your speakers – Get written confirmation of attendance
Before sending a formal letter, it is a good idea to call to see if the speaker is available and get an idea of the budget to determine if
your event budget
will allow you to accomodate the speaker.
Contact your speakers with a formal invitation letter. It should include the date, location and purpose of event and what you would like them to do (teach, preach, present, demonstrate, etc). You also should mention what accommodations are covered by your budget (travel, lodging, meals, love offering, etc).
Some speakers may have additional forms for you to fill out. Alternately, you'll need to collect more information later to accommodate your speakers properly (A/V needs, beverage preference, travel preferences, food allergies etc)
4. Design flyer
A flyer is often the 1st impression of your event. Sometimes, a catchy flyer will determine rather someone will continue to read the information. Also, if there is too much information on the flyer it may be glossed over. If possible, seek out someone with graphic design experience to put together your flyer.
5. Set up a registration portal (Eventbrite) & Paypal or merchant account

While it is not a requirement to have an online registration portal, setting up this type of presence automates the registration process, provides more exposure, and allows people to register instantly. There are plenty of Registration services out there, some of them, like Eventbrite (which I use and am most familiar with) allow you to set up a customizable webpage for your event, allow you to set registration prices, track attendees and promote your event. Most charge a transaction fee (similar to Paypal).

The ability to collect money online will allow people to register conveniently. If you already have a business merchant account, check with your bank for options. Alternately, you can use a payment processor such as Paypal or Google Checkout.
6.
A
dvertise!
Use E-blast services (Nationwide Ministry for example)
Print Media (Newspapers and Magazines)
Conference Directories (Elijah List, ChristianDance.com)
Newsletters
Radio & Television
Direct Mail
Social Media: Myspace, Facebook, Twitter
Please don't spam!
7. Recruit & Train Staff (paid or volunteer)
Ask for assistance early! It would be a good idea to walk through the entire event in your head and list the various positions & responsibilities. Use this to create staff job descriptions that you can share with people. Below are a few positions you may need:
Disclosure: I have listed referrals to several services that I am affiliated with. Eventhough I am an affiliate, I use them for my own events and offer my full endorsement of Eventbrite and Pre-paid Legal

Share on Facebook