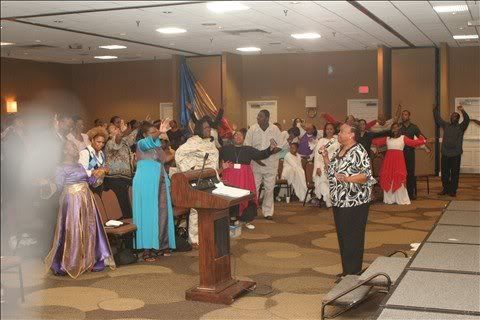 As we praised and worshipped on one accord, He manifested HIS presence in such a tangible way. There were testimonies of physical healings, deliverance and revival.
This year, we welcomed International guests from Bahamas, Barbados, Antigua, and Bermuda! It was a special pleasure to fellowship with you all. I count it an honor that you would travel to the United States to attend Equipping the Saints. It is my prayer the conference exceeded your expectations and you left spiritually full, armed and equipped. Ready to take new knowledge and inject it into your respective community.
Thursday Night
Enter into HIS gates with thanksgiving and into HIS courts with PRAISE!
Wings of Praise started us off Thursday with a wonderful procession. This was followed by congregational praise & worship led by Minister Rekesha Pittman. Kudos to all the congregational dancers that volunteered!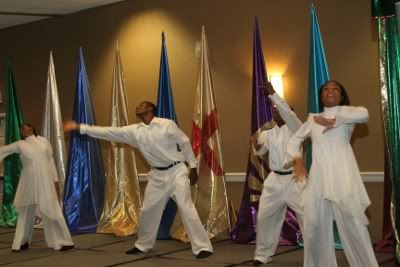 Silent Praise from Omaha, NE ministered Praise Him in Advance by Marvin Sapp. This ministries testimony truly blessed me! (Read it in full below!) Since the conference, they have started a praise dance, mime, African, and flag ministry. They are truly doing the work of the ministry. To Dr. Anderson and the rest of the Allen AME leadership….keep up the GOD work! I see the Lord all over those youth and the best is yet to come!

Patricia Burnett you touched my son's chest during your prophetic dance and he has been seeking the Lord every since. Thank you so much for allowing God to use you in such a might way!!


- Miriam A. , St. Louis, MO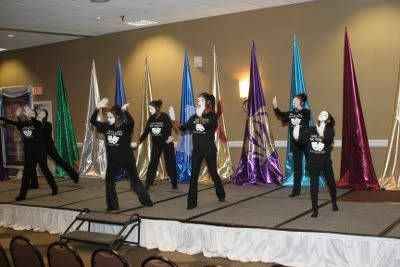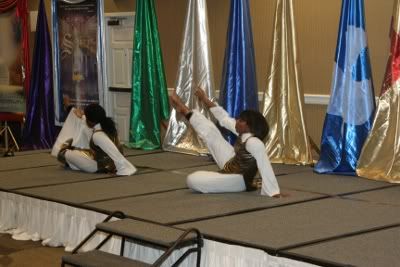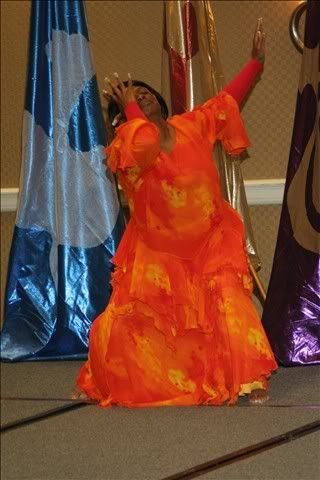 Ms. Lauren Brown ushered us into the Holy of Holies with an anointed worship medley. This P.K. (that is "preacher's kid) is the daughter of our evening speaker Pastor Tanya Brown. At 14 she is letter the Lord use her mightily through song, prophecy and the preached word!
Our speaker, Pastor Tanya Brown from Bethesda Temple of Alton, IL stepped into an atmosphere that was charged for worship. As she shared her testimony of the Lord's grace, mercy and miraculous power the Spirit of the Lord began to fall and His people. To God be ALL the Glory!
Friday – Breakout Sessions & Dance Intensives
This year we introduced several new sessions and a 4-hour dance & mime intensive. Some of the new classes include Preparing to Meet the Bridegroom, Understanding the Times: Issachar & Israel, Raquad! Step it Up, Processions & Pageantry, Streamers in the Desert and About My Father's Business.
The facilitators were all phenomenal! They eagerly shared scripturally sound advice, revelations and knowledge. Thank you all for sharing your gifts.
The dance intensive we just that….INTENSE! Those that braved the 4-hour workshop learned foundational techniques that they could apply in movement. I peeked in both classes and they covered conditioning, positioning, posture, walking, body alignment, choreography and so much more. Everyone definitely looked as if they received a full body workout!
For His Glory Dance Ministry started our evening service with Anthem of Praise. These girls ministered with flags under the anointing.
The few students from the Mime Intensive session along with facilitator Minister Robert Hayes reminded us that We Need the Glory. Their cry for the GLORY to fall resonated with the attendees as we shifted into worship.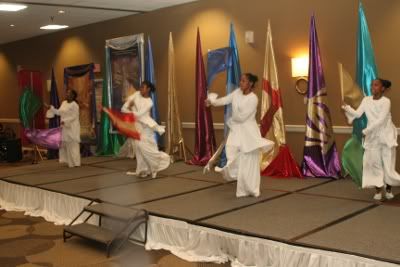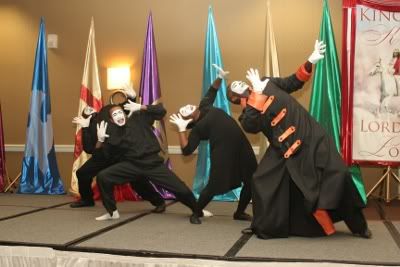 Pat & Gary Anderson of Wings of Praise blessed us with Let the Veil Down Let the Praise Go Up by Judy Jacobs. They used the billows in such a way it felt like the Lord was breathing on us!
Minister Rekesha Pittman encouraged us to FLY! The Lord used her to minister to people prophetically and set the platform for our evening speaker Prophet Barbara McClain to bring the Word!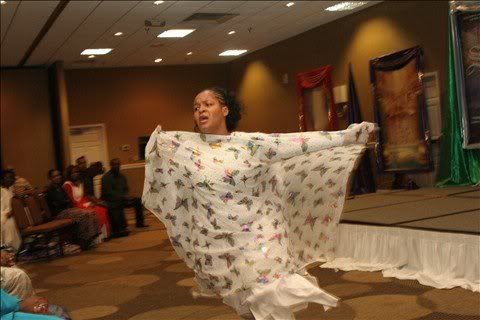 Saturday- Breakout Sessions, Five Fold Ministry Panel & Prophetic Wedding Feast
I was overwhelmed with the number of people that showed up for Between the Porch & Altar intercessory prayer! Under the leadership of Dr. Ann Higgins we strategically prayed for our nation, Jerusalem, our visiting nations, and dancers everywhere to name a few.
We continued with our daily breakout sessions including new sessions: God's Order for Garments TM, Streamers in the Desert and Challenges in Ministry (taught by my pastor!).
After the last breakout session, we held a 5 Fold Ministry Panel Discussion. This was an opportunity for the attendees to ask their questions directly from those operating is various areas of ministry. There were some great questions…I'll post the Q&A that I can remember on the website, so be sure to bookmark this site and check back!
Dr. Ann Higgins blessed us with a ministry selection in the evening before our speaker. The selection was so appropriate for Equipping the Saints – fill us up & send us out!
Elder Cecilia Beasley was our evening preacher. The Lord allowed her to release a prophetic song…only 7 words, but it is still in my spirit: Thy Kingdom Come…Thy Will be Done. It still brings tears to my eyes every time I think of it!
Immediately following her sermon was the Prophetic Wedding Feast. Wings of Praise created a beautiful depiction of the Marriage of the Lamb. There were streets paved with gold, beautiful banners, and communion. It was such a personal worship experience as we were individually escorted through a canopy to ascend the the wedding feast. It was an awesome reminder of the glory that awaits those of us whose names are written in the Lamb's book of life!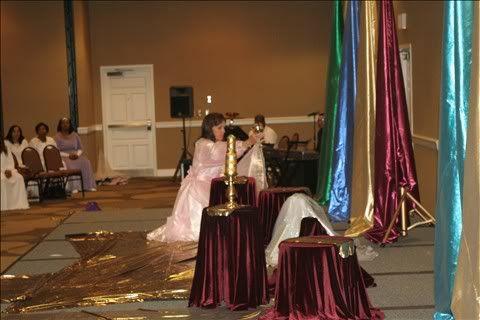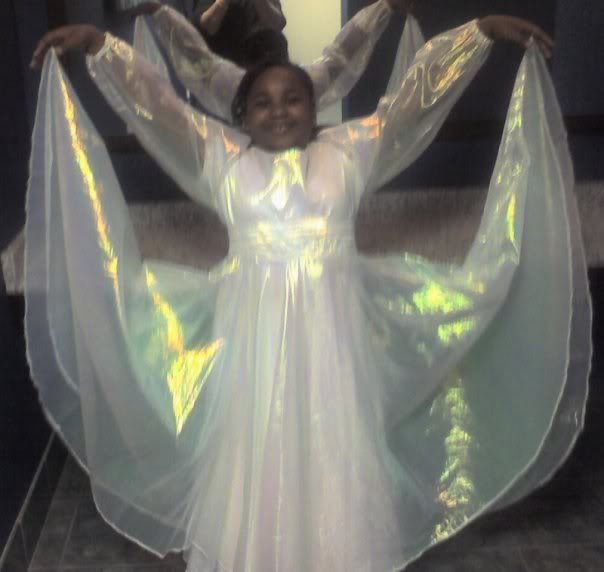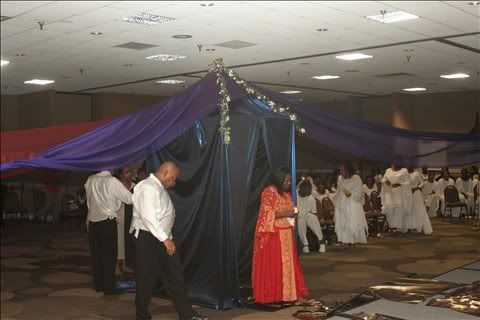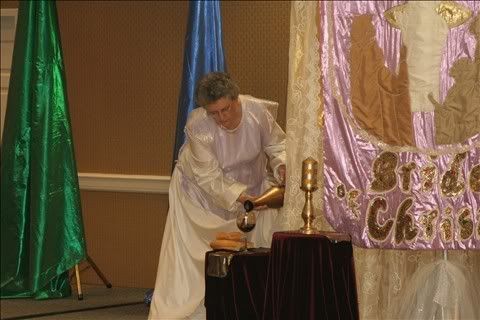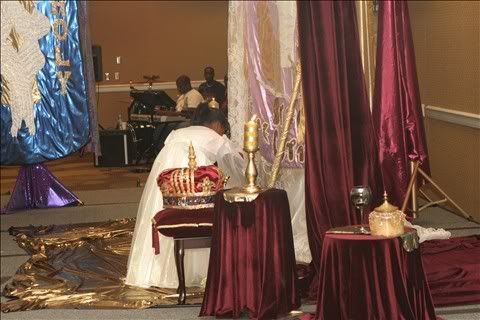 Sunday – Morning Worship & Fellowship!
On Sunday we caravaned across the river to my church home, O'Fallon Apostolic Assembly, for our 8:00 am service. Dr. Ann Higgins preached a RHEMA WORD! She encouraged us to step into position so we could continue to see Jesus.
After service, we traveled to one of my favorite restaurants (Bristol's Seafood Grill) for an all-you-can-eat Sunday brunch. We ate, laughed, and recapped all the events that took place…officially marking the end of EQS2009.
Special Thank You!
Share on Facebook
Dance Ministry Detox was a time of healing and deliverance. The conference was ran with such a spirit of excellence. The information was timely, relevant, and practical.
Being an effective movement minister means being whole. Too often, we are satisfied with effective dancers. Dancers ministering through hurt, unresolved issues, and financial turmoil to name a few. D.Md dealt with these issues head on! The no-nonsense candid approach of the facilitators set the tone for the "detox treatment program".
When you arrived at D.Md, you did not register…you "checked-in" to a treatment facility complete with a hospital tag that served as your registration badge for the weekend. The room was draped white just like a hospital. This was NOT your typical dance conference!
On the first night, we wore all black. Minister Rekesha preached on the Spirit of Haman. She broke down this spirit verse by verse so we can identify it as it tries to creep into our ministries. The next time you read Esther….take a close look at Haman. Many of us prophesy the favor of Esther…well watch out…because when you get Esther, you get Haman too!
It was refreshing to be surrounded by facilitators who were transparent and approachable. Even the facilitators left refreshed.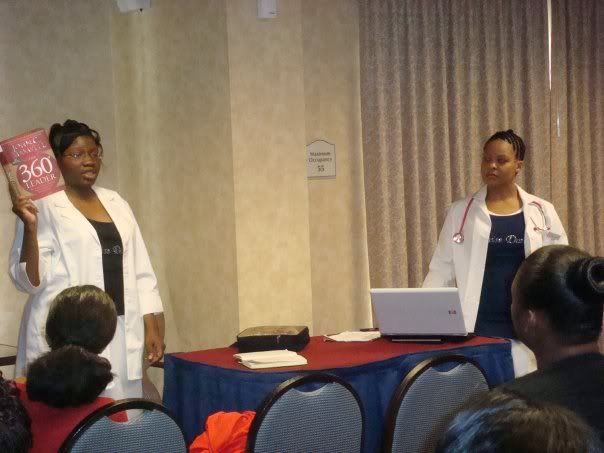 As we continued our detox treatment, you could hear shackles being loosed. The garment of praise was replacing the spirit of heaviness.
The manifestation of HIS glory on the last night left everyone speechless! For well over 15 minutes everyone sat still, completely silent in HIS presence. The Lord himself applauded with 3 claps of thunder followed by rain!
The Lord used Rain Rein Reign Ministries (RRR) to bring rain to the desert! A natural manifestation of what was taking place in the spirit realm!
Tremendous Kudos to Rekesha Pittman for hosting an outstanding conference and the ladies of Reign Dance Company blessed us tremendously through their ministry in dance and labor of love. For future RRR events check out http://www.rainreinreign.com or http://companykeepers.blogspot.com

Share on Facebook
It is my honor & privilege to present Carnival of Praise Dance #1: Animal Kingdom Edition! While a "carnival of praise dance" may be new to some of you, the concept of blog carnivals has been around for a while. Like a real carnival, a blog carnival puts a lot of interesting "stuff" in one place. Eventually, this carnival will travel to other sites as it gains momentum. Read this article for more information on blog carnivals and how to participate or host future carnivals of praise dance.
If you're a new visitor to Paneh Praise Dance & Mime Ministry, I'd like to welcome you! You can stay connected by subscribing to our RSS feed (What is RSS?), Twitter, and/or Facebook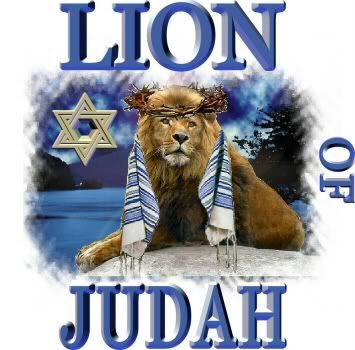 But one of the elders said to me, "Do not weep. Behold, the Lion of the tribe of Judah, the Root of David, has prevailed to open the scroll and to loose its seven seals.
Rev 5:5
Editor's Choice
Rekesha Pittman, author of Dance Ministry Talk writes Uneventful. This is an article about an unsettling trend happening in the worship arts arena.
Jocelyn Richard, author of The Praise Dance Life submits Worship Dance Garments that Preach. This article is an interview with worship dance garments designer Pamela Stovall. The article highlights the biblical mandate for priestly garments for worship dance.

Dawn Churchill submits Choreography and Ministry Suggestions for Solo Dance Ministers. How do I know if I am called to minister in dance as a soloist? How do I prepare for such ministry? Do you have any suggestions for making my solo pieces more effective? Get the answers to these questions (any many more) by reading this article! (Note ~ content in this article can be applied to movement ministry teams/groups.)
As the deer pants for the water brooks, So my soul pants for You, O God.
Saronda Jackson writes Let Judah Go Up First – Experiencing Worship!
This is a word of encouragement for those of you in the midst of the battle to send up Judah (your praise)!
Nichelle, author of Dance Advantage submits Dancers Connecting to Their Faith and Enriching Their World. This is a guest post on her site written by Randall Flinn, director of Ad Deum Dance Company. It explores the relationship between faith and dance – it's existence throughout history, as an expression of praise in worship and fellowship, and as a means for Christian artists to engage culture with relevant expressions of their faith and world view.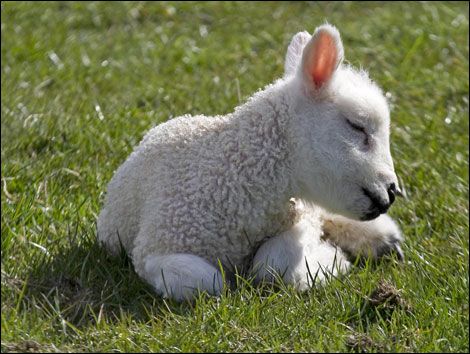 And looking at Jesus as He walked, he said, "Behold the Lamb of God!"
Valisha McFarlane, author of Everyday Purpose submits Clothed From the Wardrobe of True Worship. As dance ministers, we know our garments that we choose to minister in are very important. However, we must not forget to clothe ourselves in the spiritual garments that please the King. He desires for us to worship Him by daily by walking in humility, love, compassion and forgiveness.
Sukky Fagbohun, author of Praise Free and most recently PraiseDancer711 submits Can Dance Exist without music? The message of this article could be summed up in one word "Worship" In order to portray worship as as an integral and continuous part of the human, the article examines the question of dance, and the possibility of its existence without music.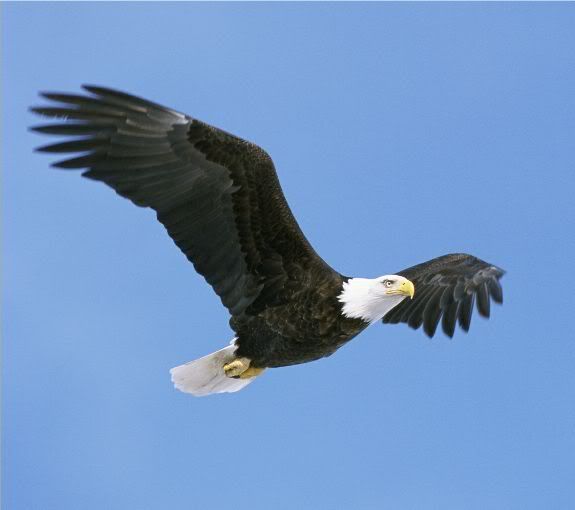 But they that wait upon the LORD shall renew their strength; they shall mount up with wings as eagles; they shall run, and not be weary; and they shall walk, and not faint.




His Hem Ministry reminds us that there are a beautiful array of colorful garments to choose from in Color Us Resplendent.
Since the carnival is posted here, there really isn't a need for me to include a submission. But I don't want to miss out on all the fun! I'm submitting an article that is part of a 3-part series on one of my favorite topics Starting a Dance Ministry. The article deals with the spiritual, practical and administrative aspects of launching a new ministry on a proper foundation.
We'd love to hear from you! Leave your comments below and on the sites of those that submitted an article. Would you like to participate in the next carnival of praise dance? Check for the latest schedule information here or on BlogCarnival.com
Share on Facebook
Title: Diversified Praise Conf.
Location: Hampton, VA
Start Date: 2009-08-14
End Date: 2009-08-15
Share on Facebook
Part 10: Chasse'
Chasse' [Sha-say] / Chase. A step where one foot "chases" the other out of its position. Typically done in a series to transition positions or to gain momentum for another move, like a jete' (leap)
and David inquired of the LORD, "Shall I pursue this raiding party? Will I overtake them?" "Pursue them," he answered. "You will certainly overtake them and succeed in the rescue."
- 1 Sam 30:8
RECOVER ALL the enemy has stolen! In order to understand the power behind this verse you MUST read 1 Sam 30:1-8

The enemy came in an took all that was precious. The Bible says the Amalekites took the women and the children and burned the city with fire. The people wept until they didn't have any more power to weep.

Have you ever been there? It seems like everything is lost.

Is it your time to pursue? Sometimes we have to go on the offense! David knew how to encourage himself in the Lord and ask for instructions. The Lord responded with instructions and a promise. It is worth noting that the Amalekites did not kill their captives…they took them away. I believe their intention was to DISCOURAGE. The root word DIS means to take away. In other words, they wanted to take away their COURAGE.

Have you allowed the enemy to DISCOURAGE you? The Bible says:

Be strong and of good courage, do not fear nor be afraid of them; for the LORD your God, He is the One who goes with you. He will not leave you nor forsake you. Deut. 31:6
Practice your chasse' (see the video demonstration below) and ask the Lord shall I pursue?

Share on Facebook
Part 9: Jete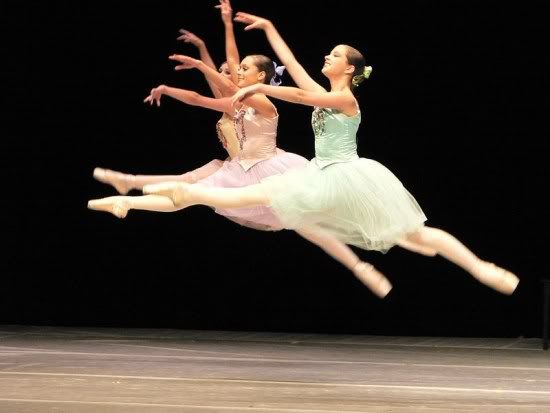 Jeté [zhuh-TAY] Throwing step. A jump from one foot to the other in which the working leg is brushed into the air and appears to have been thrown.
Share on Facebook
Part 8: Pirouette
The LORD your God is with you, he is mighty to save. He will take great delight in you, he will quiet you with his love, he will rejoice over you with singing." (Zeph 3:17)
Zephaniah 3:17-18 "Yahweh your God is there with you, the warrior savior. He will rejoice over you with happy song, he will renew you by his love, he will dance with shouts of joy for you, as on a day of festival."
You are my hiding place; You shall preserve me from trouble; You shall surround me with songs of deliverance - Ps 32:7
Share on Facebook
Part 7: Releve'
Relevé [ruhl-VAY] means raised. It is the raising of the body and is performed either in a smooth motion or with a little spring. Releve' can be done in a variety of positions, including the five basic ballet positions

As ministers, we must Lift HIM up, not ourselves or our churches (the building), or our particular ministry. When Jesus is Lifted, he will do the drawing…HIS word says so.
Well, can't we be elevated? Yes, but our own elevation must be a spiritual one! As HE takes us to a higher place, our vision/outlook changes. However, in order to go to that higher place, you must lower yourself first.

Share on Facebook
Plie' [plee-AY] is means bent or bending. In ballet it is refering to the bending of the knees. Plies can be executed in the five ballet positions, though 3rd position is often eliminated. This exercise makes the joint muscles soft and pliable and gives the necessary flexibility to the tendons. It also helps with balance.

Fondue [fawn-DEW] means sinking down. It is lowering the body by bending the knee of the supporting leg. It's like a plie', except using one leg.
Oh come, let us worship and bow down;
Let us kneel before the LORD our Maker. Ps 95:6
It is interesting to note that every time the word bend is mentioned in the Bible, it has to do with bending of a bow. The bow is an offensive weapon used in warfare, however, what I want to concentrate on something else that happens when we execute a plie' or fondue. We lower our body. As we lower ourselves, we elevate HIM to a higher place. In order to ascend to a higher place of worship, we must lower ourselves. We can not worship the Lord our maker from an equal platform.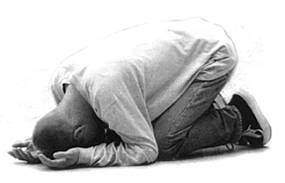 The literal translation for worship, is to lie prostrate. This is as low as one can get in our natural bodies and is a great representation of what should be happening in the spirit realm as we worship.

We worship HIM from a place of humility, and transparency. Dancers perform plie' exercises so their muscles are pliable and flexible. You can not move properly if you are hard and stiff. So as you lower your natural body, meditate on how we are to worship HIM!
Share on Facebook
Title: Celebration Service
Location: Belleville, IL
Start Time: 15:30
Date: 2009-07-12
End Time: 17:30
Share on Facebook