Part 8: Pirouette
Pirouette [peer-WET] means whirl or spin. It is a complete turn of the body on one foot. This can be done by turning inward, toward the supporting leg or outward toward the raised leg. To execute properly, your body should be centered over the supporting leg with the hips and shoulders aligned.
---
The LORD your God is with you, he is mighty to save. He will take great delight in you, he will quiet you with his love, he will rejoice over you with singing." (Zeph 3:17)
To understand why I selected this scripture for pirouette, we'll need to look at the Hebrew translation. You can look at the entire passage along with the Hebrew or Greek word and Strong's concordance reference number at one of my favorite Bible resource sites:
Blue Letter Bible
The word rejoice in Hebrew is the verb giyl which means whirl in a circle, exalt, dance, be glad. A more specific translation is to spin around with strong emotion (usually joy).
The Jeresulem Bible says:
Zephaniah 3:17-18 "Yahweh your God is there with you, the warrior savior. He will rejoice over you with happy song, he will renew you by his love, he will dance with shouts of joy for you, as on a day of festival."
What a beautiful picture! HE expresses JOY over our deliverance. HE sings songs of deliverance and dances for us.
You are my hiding place; You shall preserve me from trouble; You shall surround me with songs of deliverance - Ps 32:7
Dance Minister, if you know that you have been delivered by the grace of God then know that HE is singing & dancing over you! As you execute your pirouette meditate on the joy of being delivered from wages of sin. Not only the joy you feel, but the joy Abba Father expresses on our behalf as well!
Share on Facebook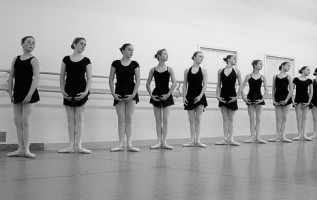 Day 1: 1st Position
The feet are turned out completely. The heels touch each other and the feet face outward, trying to form a straight line. The arms are curved with your hands and elbows slightly bent. While a "basic" first position is typically one of the first positions taught to those desiring to learn ballet, and it seems easy enough, true first position takes strength, durability and years to master. Those that want to be a professional ballerina need to achieve a 180 degree turnout, knees back to back and maintain a graceful appearance.

---
I am the Alpha and the Omega, the Beginning and the End, the First and the Last."
Revelation 22:13
While in 1st position, meditate on HIS completeness. Jesus is our everything, our all in all, the author and finisher of our faith (Heb 12:2). There is no one else who can make this claim but HIM!
Our hope and trust should only be put in HIM. He is our redeemer, provider, deliverer and our savior. Because He is the first and the last…what He has spoken either has happened or will happen! His word will not return to him void. Take comfort in the fact that He is with us always (Mt 28:20).

We have the victory! Read the book ~ we win! As the bride of Christ you can dance for victory.
Share on Facebook
Dance Techniques in the Spirit part 2: Alignment


Body alignment is necessary for ease of movement and coordination. In its simplest form, alignment can be defined as arranging our body in such a way that our bones are stacked in a line. A closer look at alignment reveals that it comes from a dynamic series of inter-relationships between various bones and joints.
Sometimes, proper alignment takes conscious effort – "drop your shoulders, knees over feet etc.." But as you continue to practice proper alignment, you'll realize that it becomes an unconscious part of your everyday life.
Dance Ministers, just as bodily alignment is necessary for ease of movement…so is spiritual alignment! Ask yourself —"Am I aligned with the will of the Lord?". If not, this will make it extremely difficult to move. As you do the work of the Lord, be assured that he wants to bless you and use you — but it is not enough to do the WORK of the Lord…it has to be the WILL of the Lord. Your lifestyle has to line up with that of a minister at all times so that the Lord can use you!
Alignment involves being in the right position, but it is also based upon your relationship. How else can you be aligned (or know if you are properly aligned) if you do not have a relationship with Christ. This is essential! Your relationship with God is crucial to proper alignment. Unfortunately, what often happens is instead of attempting to align with Christ with a FULL HEART, many desire to find out how "little" they can align with Christ if that alignment is contrary with the ways of the world. Poor alignment doesn't flow and can cause unnecessary discomfort.
So how do we obtain proper alignment (the will of God)? Let's look at the Word:
Galatians 5:16 "This I say then, Walk in the Spirit, and ye shall not fulfill the lust of the flesh"

Proverbs 3:5-6 "Trust in the LORD with all thine heart; and lean not to thine own understanding. In all thy ways acknowledge him, and he shall direct thy paths"

Psalms 37:23 "The steps of a good man are ordered by the Lord: and he delighteth in his way."
Dancing can be defined as moving rhythmically using prescribed steps. As you dance with God – make sure you are properly aligned!
Share on Facebook
The Importance of Balance


As dance ministers some of you may be thinking this article has to do with poise and posture. The type of balance discussed within this article is far more important than dance techniques – or the ability to maintain bodily equilibrium. This is the ability to put all aspects of our life into a harmonious arrangement that allows God to fully use us (His willing vessels) to get the glory.
We need balance! It takes direction from the Holy Spirit to be able to juggle responsibilities such as work / school, rest, recreation, church duties / ministry. I submit to you "3 Ps" to gaining and maintaining balance in your life.
Purpose.
Know your purpose! If you have not sought the Lord about your purpose you need to earnestly do so. Chances are that if you do not know your specific purpose you will tire yourself doing things trying to fulfill your purpose without any focus. Everyone has a common purpose and that is to worship the Lord and bring Him glory! Realize that you are unique – fearfully and wonderfully made! God has a specific purpose for you!
Priority.
Once you know what your purpose is you can prioritize the things you have to do in your life (putting God first goes without saying!). When your priorities are in order, God can bless you. Look at Solomon, he didn't ask God for money or a long life…but he asked for wisdom. Something he realized was necessary to accomplish his purpose. Because his priorities were in order, God blessed him with wisdom and wealth.
Plan.
When you know your purpose and have established your priorities it is time to make a plan. Plans don't always have to be extensive, but as the Lord reveals your purpose to you and you have set your priorities in order you can map out a plan. Let's again turn to Solomon as an example. His plan was to build a temple (1 Kings 5:5) — according to his purpose. (Your purpose will reveal the direction you are supposed to take and be a catalyst for your plan to accomplish it). Solomon had a plan, as you read through the 2nd and 3rd chapters of II Chronicles you'll see that he gathered resources, organized the people, designed the temple, and set a time to begin work.
Dance ministers, this is not something to be considered lightly. Your purpose, priority and your plan need to come from God. Your life in your own hands is chaos, but when you surrender your all (job, family, ministry, life) into the hands of God….I'll leave you with this quote that I've heard from a couple different sources:
"A basketball in my hands is worth about $19. A basketball in Michael Jordan's hands is worth about $33 million. It depends whose hands it's in. A baseball in my hands is worth about $6. A baseball in Mark McGuire's hands is worth $19 million. It depends whose hands it's in. A tennis racket is useless in my hands. A tennis racket in Pete Sampras' hands is a Wimbledon Championship. It depends whose hands it's in. A sling shot in my hands is a kid's toy. A sling shot in David's hand is a mighty weapon that brings down giants. It depends whose hands it's in. Two fish and 5 loaves of bread in my hands is a couple of fish sandwiches. Two fish and 5 loaves of bread in God's hands will feed thousands. It depends whose hands it's in. Nails in my hands might produce a birdhouse. Nails in Jesus Christ's hands will produce salvation for the entire world. It depends whose hands it's in." Your life in your hands is a mess, but your life in God's hands will produce a miracle. It all depends on whose hands it's in.
photo credit: bike queen
Share on Facebook