A reader asked:
Hey Kita, I wanted to ask you - I am the servant leader of the liturgical dance ministry of the youth. Our rehersals are 1 hour. We recently received a younger praise dancer (she is 4 yrs old), the mom has been been taking me for a baby sitter. Do you have a format that you use for children and youth in your ministry? -V.




V,
Yes I have protocol established, but what is more important than what the protocol may say is that it is supported by your Pastor and communicated to those in the ministry (when dealing with children that includes the parents). While not a necessity, I prefer written guidelines. These can be objectively referred to without the appearance of bias. When you say the mother is taking you for a baby-sitter….what does that mean? She is picking the child up late? Does the child want to participate? Behavioral problems? All of these are contingencies that can be addressed in a ministry guideline.

I have some more information on this in Starting a Dance Ministry part 2 (The Practical) and Starting a Dance Ministry part 3 (The Administrative). I will also include a sample ministry guideline in the Starting a Dance Ministry E-book that I hope to release later this month. If you want to receive more information about that, you can subscribe for the email alert using the button below:
What about you? Have you faced a similiar situation in ministry? Do you have additional advice for V? Leave your comment below!

Share on Facebook
Greetings Kingdom Ambassadors!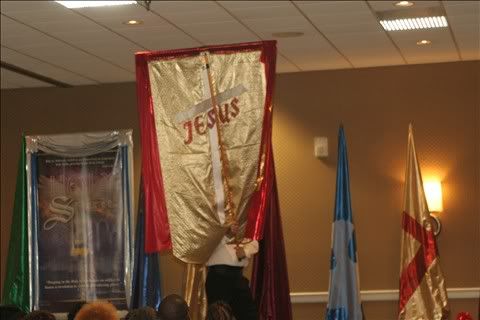 I am constantly amazed by how the Lord continues to manifest HIS splendid presence at the Equipping the Saints conference in St. Louis, MO. Worshippers came together from across the rivers and across the ocean with one purpose: To lift up the name of Jesus!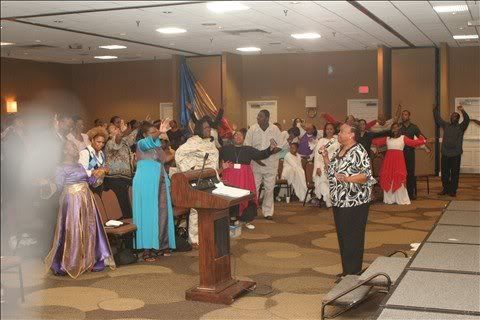 As we praised and worshipped on one accord, He manifested HIS presence in such a tangible way. There were testimonies of physical healings, deliverance and revival.
This year, we welcomed International guests from Bahamas, Barbados, Antigua, and Bermuda! It was a special pleasure to fellowship with you all. I count it an honor that you would travel to the United States to attend Equipping the Saints. It is my prayer the conference exceeded your expectations and you left spiritually full, armed and equipped. Ready to take new knowledge and inject it into your respective community.
Thursday Night
Enter into HIS gates with thanksgiving and into HIS courts with PRAISE!
Wings of Praise started us off Thursday with a wonderful procession. This was followed by congregational praise & worship led by Minister Rekesha Pittman. Kudos to all the congregational dancers that volunteered!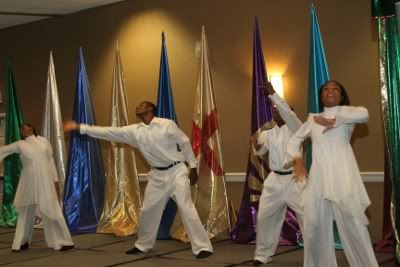 Silent Praise from Omaha, NE ministered Praise Him in Advance by Marvin Sapp. This ministries testimony truly blessed me! (Read it in full below!) Since the conference, they have started a praise dance, mime, African, and flag ministry. They are truly doing the work of the ministry. To Dr. Anderson and the rest of the Allen AME leadership….keep up the GOD work! I see the Lord all over those youth and the best is yet to come!
Genesis ministered Lord, You're Holy followed by a solo ministry piece from Mrs. Patricia Burnett, director of the
Anointed Feet Academy
(and also my instructor). Her prophetic ministry propelled us into worship and set the atmosphere for our speaker.

Patricia Burnett you touched my son's chest during your prophetic dance and he has been seeking the Lord every since. Thank you so much for allowing God to use you in such a might way!!


- Miriam A. , St. Louis, MO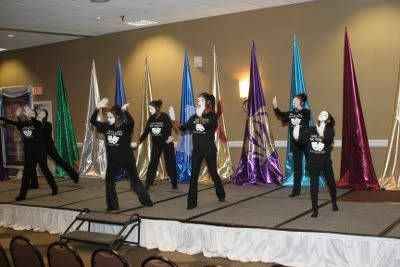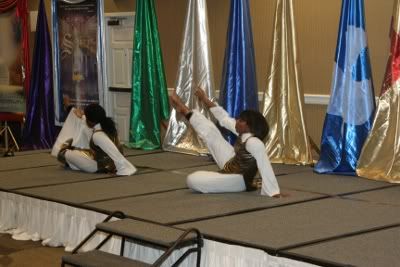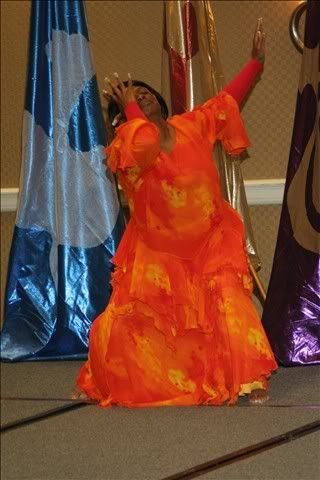 Ms. Lauren Brown ushered us into the Holy of Holies with an anointed worship medley. This P.K. (that is "preacher's kid) is the daughter of our evening speaker Pastor Tanya Brown. At 14 she is letter the Lord use her mightily through song, prophecy and the preached word!
Our speaker, Pastor Tanya Brown from Bethesda Temple of Alton, IL stepped into an atmosphere that was charged for worship. As she shared her testimony of the Lord's grace, mercy and miraculous power the Spirit of the Lord began to fall and His people. To God be ALL the Glory!
Friday – Breakout Sessions & Dance Intensives
This year we introduced several new sessions and a 4-hour dance & mime intensive. Some of the new classes include Preparing to Meet the Bridegroom, Understanding the Times: Issachar & Israel, Raquad! Step it Up, Processions & Pageantry, Streamers in the Desert and About My Father's Business.
The facilitators were all phenomenal! They eagerly shared scripturally sound advice, revelations and knowledge. Thank you all for sharing your gifts.
The dance intensive we just that….INTENSE! Those that braved the 4-hour workshop learned foundational techniques that they could apply in movement. I peeked in both classes and they covered conditioning, positioning, posture, walking, body alignment, choreography and so much more. Everyone definitely looked as if they received a full body workout!
For His Glory Dance Ministry started our evening service with Anthem of Praise. These girls ministered with flags under the anointing.
The few students from the Mime Intensive session along with facilitator Minister Robert Hayes reminded us that We Need the Glory. Their cry for the GLORY to fall resonated with the attendees as we shifted into worship.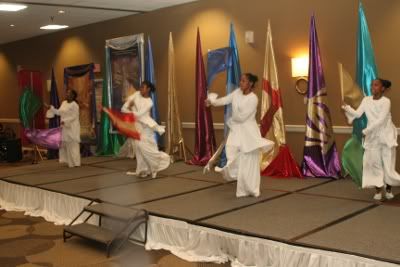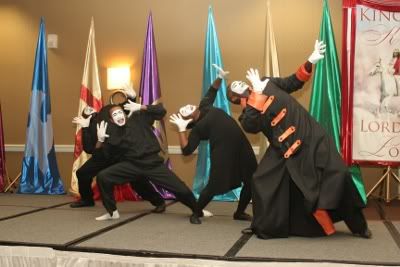 Pat & Gary Anderson of Wings of Praise blessed us with Let the Veil Down Let the Praise Go Up by Judy Jacobs. They used the billows in such a way it felt like the Lord was breathing on us!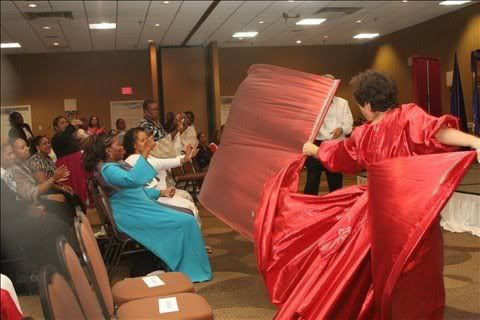 Minister Rekesha Pittman encouraged us to FLY! The Lord used her to minister to people prophetically and set the platform for our evening speaker Prophet Barbara McClain to bring the Word!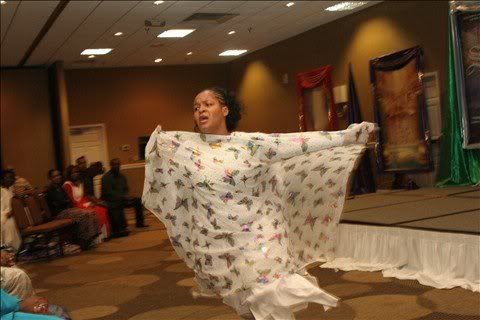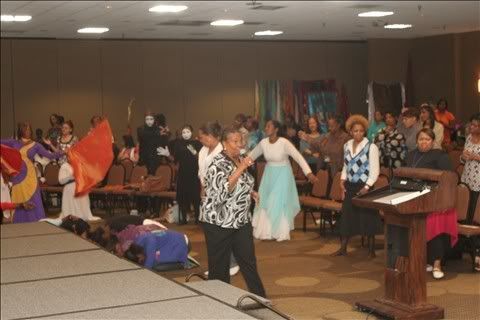 Saturday- Breakout Sessions, Five Fold Ministry Panel & Prophetic Wedding Feast
I was overwhelmed with the number of people that showed up for Between the Porch & Altar intercessory prayer! Under the leadership of Dr. Ann Higgins we strategically prayed for our nation, Jerusalem, our visiting nations, and dancers everywhere to name a few.
We continued with our daily breakout sessions including new sessions: God's Order for Garments TM, Streamers in the Desert and Challenges in Ministry (taught by my pastor!).
After the last breakout session, we held a 5 Fold Ministry Panel Discussion. This was an opportunity for the attendees to ask their questions directly from those operating is various areas of ministry. There were some great questions…I'll post the Q&A that I can remember on the website, so be sure to bookmark this site and check back!
Dr. Ann Higgins blessed us with a ministry selection in the evening before our speaker. The selection was so appropriate for Equipping the Saints – fill us up & send us out!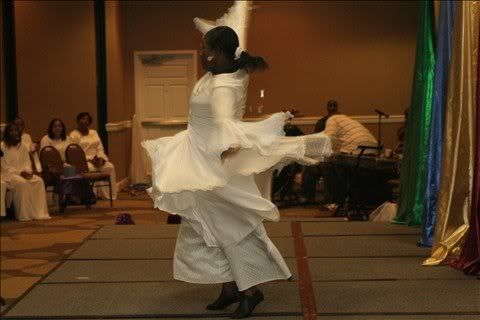 Elder Cecilia Beasley was our evening preacher. The Lord allowed her to release a prophetic song…only 7 words, but it is still in my spirit: Thy Kingdom Come…Thy Will be Done. It still brings tears to my eyes every time I think of it!
Immediately following her sermon was the Prophetic Wedding Feast. Wings of Praise created a beautiful depiction of the Marriage of the Lamb. There were streets paved with gold, beautiful banners, and communion. It was such a personal worship experience as we were individually escorted through a canopy to ascend the the wedding feast. It was an awesome reminder of the glory that awaits those of us whose names are written in the Lamb's book of life!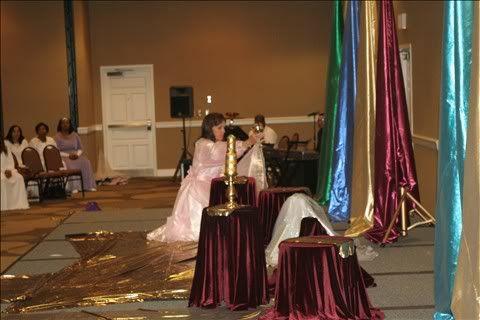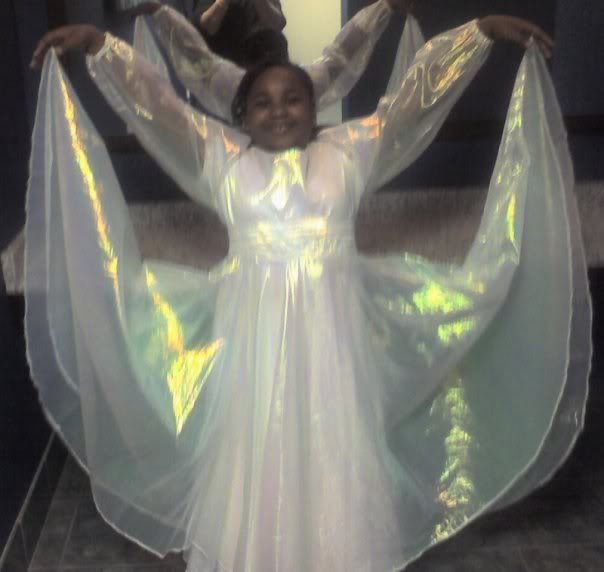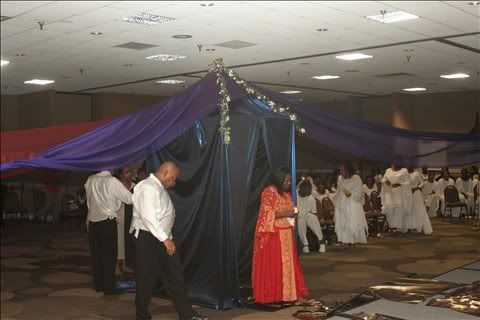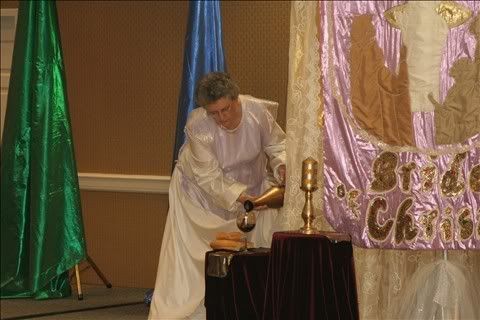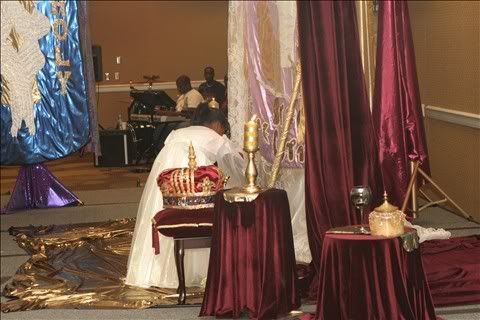 Sunday – Morning Worship & Fellowship!
On Sunday we caravaned across the river to my church home, O'Fallon Apostolic Assembly, for our 8:00 am service. Dr. Ann Higgins preached a RHEMA WORD! She encouraged us to step into position so we could continue to see Jesus.
After service, we traveled to one of my favorite restaurants (Bristol's Seafood Grill) for an all-you-can-eat Sunday brunch. We ate, laughed, and recapped all the events that took place…officially marking the end of EQS2009.
Special Thank You!
My sincere gratitude is extended to all of those who supported the Equipping the Saints Conference (facilitators, staff, musicians, A/V, attendees)! My pastor, Bishop Gregory Wells Sr. & Lady Joyce Wells have been a tremendous support. I thank God for their godly counsel and wisdom.
Equipping the Saints 2010!
Many of you have contacted me about pre-registering for Equipping the Saints 2010. Once all the information is finalized early registration will open. I hope to have the dates and location confirmed and available by the next newsletter release.
Heads up! There will be an "Early Registration" challenge. All I'll say now is community effort will be necessary for it to work.
I has been my honor to serve as your conference host for a 3rd year and I am looking forward to the 4th should be Lord delay His return.
Conference Photos!

Share on Facebook
Dance Ministry Detox was a time of healing and deliverance. The conference was ran with such a spirit of excellence. The information was timely, relevant, and practical.
Being an effective movement minister means being whole. Too often, we are satisfied with effective dancers. Dancers ministering through hurt, unresolved issues, and financial turmoil to name a few. D.Md dealt with these issues head on! The no-nonsense candid approach of the facilitators set the tone for the "detox treatment program".
When you arrived at D.Md, you did not register…you "checked-in" to a treatment facility complete with a hospital tag that served as your registration badge for the weekend. The room was draped white just like a hospital. This was NOT your typical dance conference!
On the first night, we wore all black. Minister Rekesha preached on the Spirit of Haman. She broke down this spirit verse by verse so we can identify it as it tries to creep into our ministries. The next time you read Esther….take a close look at Haman. Many of us prophesy the favor of Esther…well watch out…because when you get Esther, you get Haman too!
It was refreshing to be surrounded by facilitators who were transparent and approachable. Even the facilitators left refreshed.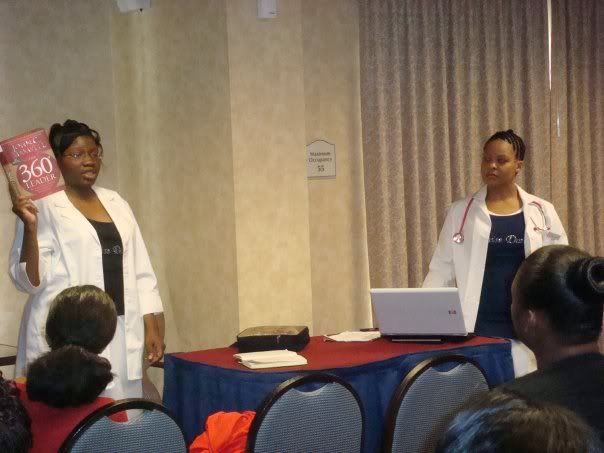 As we continued our detox treatment, you could hear shackles being loosed. The garment of praise was replacing the spirit of heaviness.
The manifestation of HIS glory on the last night left everyone speechless! For well over 15 minutes everyone sat still, completely silent in HIS presence. The Lord himself applauded with 3 claps of thunder followed by rain!
The Lord used Rain Rein Reign Ministries (RRR) to bring rain to the desert! A natural manifestation of what was taking place in the spirit realm!
Tremendous Kudos to Rekesha Pittman for hosting an outstanding conference and the ladies of Reign Dance Company blessed us tremendously through their ministry in dance and labor of love. For future RRR events check out http://www.rainreinreign.com or http://companykeepers.blogspot.com

Share on Facebook
But now He has obtained a more excellent ministry, inasmuch as He is also Mediator of a better covenant, which was established on better promises. - Hebrews 8:6, NKJV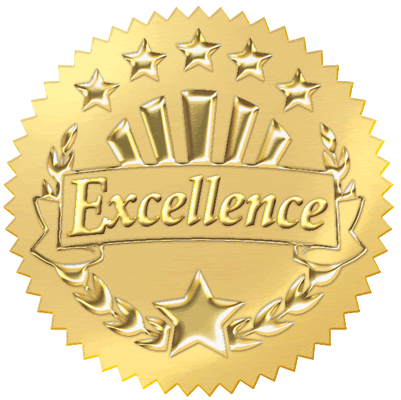 Recently, I've been meditating on excellence. What exactly is it? How does one obtain and sustain it?
During a leadership meeting at my church it was stated that the Spirit of Excellence causes the believer to aspire to the highest level of achievement in every area of their life.
Here are some practical tips we can implement to foster a spirit of Excellence in our movement ministries.
Part 1: Excellence in Communication: All communication mediums need to be clear and professional. In this information age, the first impression is often a website or voice mail recording.
Your Internet Presence:
- Keep your website up to date by removing past events
- Check for dead links and images
- Watch out for misspelled words
- Your Social Networking page (Myspace, Facebook, Twitter etc) should match the message of your ministry
Telephone Excellence:
- Voicemail recordings should be clear & free of background noise. IF you must use ring back music….let's keep it Holy saints! People calling you for ministry may be turned off by some secular selections.
- Answer the phone in a professional, courteous manner. Eliminate as much background noise as possible.
E-mail Excellence:
- When communicating by E-mail, provide a relevant subject.
- Use the same professional courtesies you would in a business letter, especially if it is the first time contacting someone.
- If you are contacting a group, use the blind copy (BCC) feature as some people do not want their e-mail addresses shared
It is important to note that excellence does not mean perfection. It is also a common misconception that excellence requires a large budget. Excellence is more about your attitude that your pocketbook! Attention to detail is the beginning of excellence in communication.
Stay tuned for part 2, an excellent appearance.
I'd love to hear from you! What else can we do to strive for excellence? Leave your comments below!
Share on Facebook
As an eventholder, I've come to realize there is a delicate balance in securing a number of guest rooms for an event. You have to do a best "guestimate" of how many people will attend. Of those attendees, how many are local commuters? You want to block enough rooms for your attendees, but you also don't want to be stuck with the bill. Here is…
The Truth about Room Blocks
When attending an event outside of your local area, it is tempting to try to save a few dollars by booking our hotel room "outside the block", in other words at another hotel, through an Internet site, or with an employee or family discount. While this may seem like a good idea, often there are indirect financial consequences.

Hotel meeting room space is very expensive. It costs thousands of dollars to use the space for a few evenings. Hotels are willing to discount the cost of meeting room space if you can ensure them revenue through other means (sleeping rooms or food & beverage).
Typically, the hotel will discount the cost of the meeting room space in exchange for a guarantee on the amount of sleeping rooms that will be allotted for your event. This is the room block.
Depending on the details of the hotel contract, the event organizer is responsible for filling a certain percentage of the rooms. Anything below that percentage, the event organizer is responsible for.

For example…if an organizer contracts for 100 room nights and has a contractual obligation to meet 90%, then 90 room nights must be filled under the block. For each night below the allowed slippage (in this example 90), the organizer has to pay for that room night. So…to continue the example, if only 70 rooms are booked under the block…that is 20 room nights short of the allowed slippage of 90%. If a night in the hotel is $99 (let's say $100) then the organizer is responsible for the difference: 20*$100 or $2,000. This is called attrition. This is in addition to the thousands paid for meeting room space.

Larger corporate events are usually able to write this into their budget or increase registration on future events in an attempt to recover losses. Heavy attrition fees can cripple any size budget.
This is why it is always appreciated to book your room under the block whenever possible!
Share on Facebook
Title: EntreLeadership w/Dave Ramsey
Location: Atlanta, GA
Description: https://www.daveramsey.com/etc/ecommerce/index.cfm?event_id=332&fuseaction=dspPurchaseWiz2
Start Time: 9:00
Date: 2009-09-18
End Time: 15:30
Share on Facebook
The Administrative Side
This is the last article in a 3 part series on Starting a Dance Ministry. Part 1 dealt with the spiritual requirements, part 2 dealt with the practical concerns. This final portion will address some of the administrative concerns and provide a few sample documents to get you started.
Administration is often overlooked because of the level of attention needed to tasks that are often viewed as mundane or insignificant. However, these items left unattended can cause turmoil later.
Some leaders are also administrators. If you find yourself planning every step of the way, highly organize, and detail oriented – then you may have the gift of administration. There are some leaders however, that are graced with an exceptional ability to lead and motivate people. They see the big picture and are not concerned with how it will be accomplished. If that sounds like you, it is important to pray about who is supposed to be the dance ministry administrator (hint: it does not need to be a member of the dance ministry, but should definitely be someone gifted in administration!)
Here is an example of a leader / administrator roles in action:
The ministry receives an invitation to minister at a guest church in a month
The leader's focus is probably on ensuring the group is ready to minister effectively
The administrator has a few more questions:
Who from the group can commit? Will we need to purchase garments? If dealing with youth – permission slips? Etc etc….
Many leaders are administrators and are capable of leading and carrying the details. Other ministries are fortunate enough to have an administrator. But if you are newly formed, perhaps you don't have an administrator and the idea of dealing with details is a bit intimidating. Here are some documents that can be altered to suit your ministry for a variety of needs. Some of these are modified templates that can be downloaded freely from Microsoft Office Template Directory.

- Attendance sheet (Excel format)
- Calendar (Word Document)
- Letter to ministry (parents) (Word Document)
- Thank you letter for ministry opportunity (Word Document)
- Permission slip (Word Document)
- Medical Information Form (Word Document)
Some other items that would be good to have are a dance ministry handbook, ministry agreement contract, garment tracker and income/expense report to name a few.

Share on Facebook