I was honored when fellow dance minister Jocelyn Richard asked me to review her book PHENOMENAL CHOREOGRAPHY FOR WORSHIP. I finished the book last weekend and this has been my first chance to publish the review. Jocelyn's formal dance training started at a young age. She studied at the Joffrey Ballet School and the Alvin Ailey American Dance Theater school. Combine this with her desire to serve the Lord and His people through dance and she is more than equipped to discuss Phenomenal Choreography.
The book contains scriptural foundations for dance as well as a summary of various dance genres incorporated in worship (ballet, modern, folk etc). Jocelyn explains all aspects of choreography, then leaves the reader with choreography action steps. The book is more than a "How To" guide or list of definitions because it will cause you to think for yourself and enable you to think creatively. Various elements are explained such as: abstract vs. literal movement, levels, directions, musical selections and many more.
This book would be a great addition to dance ministries desiring to increase their "dance vocabulary" and widen their range of motion. Dance ministry leaders could implement the choreography action steps into rehearsal exercises; otherwise, some of the material may be difficult for new dance ministers.
Who should purchase this book?
Dance ministry leaders & their groups for training

Individuals that want to increase their dance vocabulary

Anyone who wants to spark or improve their own creativity


Groups or individuals who find themselves getting "stuck" when choreographing a ministry selection
Who should NOT purchase this book?
If you are looking for outlined choreographed steps for a dance ministry piece, this is not the book for you! This book will give you the tools needed to create effective choreography, but it does not create it for you.
My Final Thoughts / Suggestions:
Great job Minister Jocelyn!
If a picture is worth a 1,000 words, how much is a video worth?! I don't know if it is possible, but a video blog series to accompany Phenomenal Choreography would be a welcomed addition!
Get your copy of Phenomenal Choreography for Worship Here
Connect with Jocelyn Richard on The Praise Dance Life, Facebook, and Twitter
Share on Facebook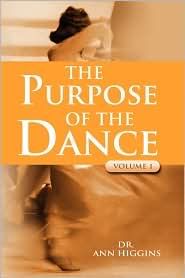 I recently read The Purpose of the Dance by Dr. Ann Higgins. This book would be a great addition to any dance ministers library, but would be especially useful to ministry leaders and those new to ministry. It covers items such as garments, taking authority with our hands and feet, movement, and types of dance to name a few.
The information is presented in such a way that it would be easy to understand for someone in the early stages of movement ministry, however, there are nuggets to be gleaned by the season minister as well.
Each chapter is filled with reference scriptures and has a review worksheet at the end, making it a great exercise study for ministry groups. Even though the answers can be found within the chapter, they are not listed in the back of the book like a typical textbook so any leader using this for a group exercise needs to do some preparation work.
Find more information about Dr. Ann Higgins at:
Share on Facebook