Carnival of Praise Dance #3: Personal Finance Edition
It is my honor & privilege to present Carnival of Praise Dance #3: The "Personal Finance" Edition! While a "carnival of praise dance" may be new to some of you, the concept of blog carnivals has been around for a while. Like a real carnival, a blog carnival puts a lot of interesting "stuff" in one place. Eventually, this carnival will travel to other sites as it gains momentum. Read this article for more information on blog carnivals and how to participate or host future carnivals of praise dance.
If you're a new visitor to Paneh Praise Dance & Mime Ministry, I'd like to welcome you! You can stay connected by subscribing to our RSS feed (What is RSS?), Twitter, and/or Facebook
Below you'll find the submissions to this month's carnival. Aside from dance ministry, I am interested in personal finance, so I thought it would be fun to publish a Personal Finance edition. Enjoy!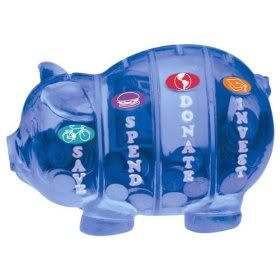 Go to the ant, sluggard; consider her ways and be wise; who having no guide, overseer, or ruler, provides her food in the summer and gathers her food in the harvest.
Proverbs 6:6-8


Rekesha Pittman, author of Dance Ministry Talk writes Don't Break the Bank. This article offers practical advice for dance ministers spending and budgeting while traveling to conferences and various events.

Then she came and told the man of God. And he said, "Go, sell the oil and pay your debt, and you and your sons can live on the rest."
-2 Kings 4:7
Jocelyn Richard, author of The Praise Dance Life submits David's dance and the Michal syndrome, which discusses the reason for David's praise and Michal's reaction.
Owe nothing to anyone except to love one another; for he who loves his neighbor has fulfilled the law.
- Romans 13:8

Roxi Author from The Rebellious Teacher submits The Power of Praise. This is day 13 in the 30 days of praise challenge. This post encourages you to allow the dunamis power of the Holy Spirit to flow through you 24/7!
Give, and it will be given to you. They will pour into your lap a good measure, pressed down, shaken together, and running over. For by your standard of measure it will be measured to you in return.
-Luke 6:38
Since the carnival is posted here, there really isn't a need for me to include a submission. But I don't want to miss out on all the fun! I'm submitting What to "Where", a praise dance garment resource list classifying what garments are available and where to find them.

We'd love to hear from you! Leave your comments below and on the sites of those that submitted an article. Would you like to participate in the next carnival of praise dance? Check for the latest schedule information here or on BlogCarnival.com

Past Praise Dance Blog Carnivals:
#1: September 2009 – Animal Kingdom Edition
#2 October 2009 – Equipping the Saints Edition
.
Share on Facebook