A Minister's Choreography Devotion: Plie' & Foundue
Part 6: Plie' & Fondue
Plie' [plee-AY] is means bent or bending. In ballet it is refering to the bending of the knees. Plies can be executed in the five ballet positions, though 3rd position is often eliminated. This exercise makes the joint muscles soft and pliable and gives the necessary flexibility to the tendons. It also helps with balance.

Fondue [fawn-DEW] means sinking down. It is lowering the body by bending the knee of the supporting leg. It's like a plie', except using one leg.
Oh come, let us worship and bow down;
Let us kneel before the LORD our Maker. Ps 95:6
It is interesting to note that every time the word bend is mentioned in the Bible, it has to do with bending of a bow. The bow is an offensive weapon used in warfare, however, what I want to concentrate on something else that happens when we execute a plie' or fondue. We lower our body. As we lower ourselves, we elevate HIM to a higher place. In order to ascend to a higher place of worship, we must lower ourselves. We can not worship the Lord our maker from an equal platform.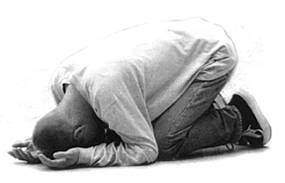 The literal translation for worship, is to lie prostrate. This is as low as one can get in our natural bodies and is a great representation of what should be happening in the spirit realm as we worship.

We worship HIM from a place of humility, and transparency. Dancers perform plie' exercises so their muscles are pliable and flexible. You can not move properly if you are hard and stiff. So as you lower your natural body, meditate on how we are to worship HIM!
Lakita Fane serves as the founder of Paneh Praise Dance & Mime Ministry. Find out more about her or follow her on Twitter (@Paneh).
Subscribe to our RSS feed (What is RSS?)so you'll always have the latest information.
Join our FREE newsletter to receive monthly emails with additional articles, upcoming events, promotions, discounts and resources.
Share on Facebook